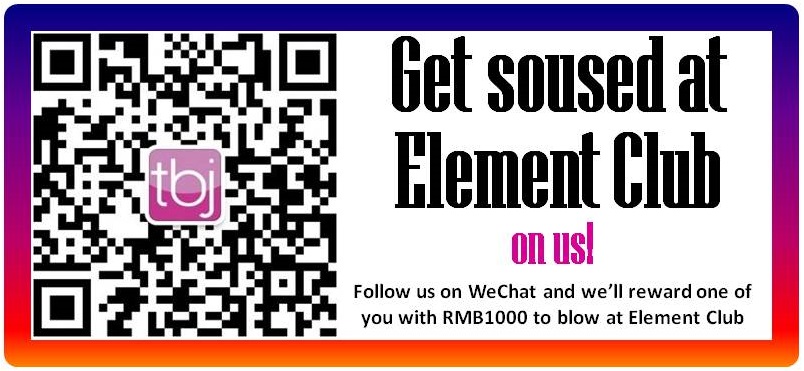 That's right folks, the weekend is upon us and we'd like to give you a little boost to your plans, which is why we're giving away not one, but a nifty five cards worth RMB 1,000 each, good for the material equivalent of booze, soda, fancy water, memories, and regret at Gongti's Element Club.
If you wish to have a night on us, simply follow these simple steps:
1. If you don't already, subscribe to our official WeChat account by scanning our QR Code below or search "thebeijinger"
2. Share this post via WeChat moments with or without an exceedingly witty caption about how you'll do anything for drink
3. Take a screenshot of your post
4. Send said screenshot to our official the Beijinger WeChat account
5. Wait ... patiently ...
Submissions close on midnight Sunday, which doesn't exactly help fuel this weekend but you can live a little freer in the knowledge that you may have one of these babies waiting for you on Monday. We will contact the lucky winners via WeChat come Monday.
Best of luck and have a great one!
More stories by this author here.
Email: tomarnstein@thebeijinger.com
WeChat: tenglish_
Instagram: @tenglish__
Images: the Beijinger

Visit the original source and full text: the Beijinger Blog