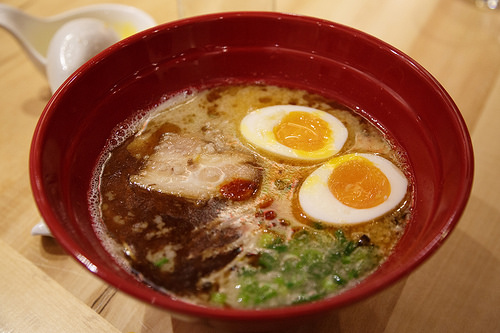 Noodle-fiends, get psyched. Yesterday was the first soft opening day for internationally-lauded ramen chain Ippudo in the Kerry Centre. For a town lacking in truly solid ramen options, the Tokyo-based noodle joint is well-poised to raise the bar. Pictures and an initial account of the shop by a blogger here look very promising. I remember all the commotion surrounding Ippudo's first opening in New York so I'm looking forward to heading over that way as soon as I can and will be back to you with my take.
The bottom level Kerry Centre dining options continue to grow. The third branch of Hatsune had their grand opening party there on Wednesday. It was quite the scene with Alex Molina from Mosto behind the DJ decks, 京A serving out an excellent special edition brew of red rice, ginger and wasabi, and the official debut of a few new Hatsune sushi rolls. The newest outpost is a great lunchtime option for offices in the area, but also worth keeping in mind for after-work drinks and an evening bite.
In outer Sanlitun, a new place called Loft 29 looks poised to open soon in the old Panino Giusto space next to the new Hercules. The construction banner proclaims "Modern American Cuisine," so I guess we'll soon learn what they mean by that.
The Jue Market on Saturday was jammed with people, sunshine and an all-around good atmosphere. The Face hotel complex turned out to be a lovely space (following the initial cancellation of a location near Dongzhimen) for the event. Most of the usual suspects of local food entrepreneurs came out for the day, with appearances by Sue Zhou of Food Muppet Catering and Hani Gejiu, Tavalin Bagels, Two Guys and a Pie, Andy's Craft Sausages, Sweet Tooth Bakery, and newcomers Spoonful of Sugar (from the folks at Re-Up) who have a new spot down in Dashilar.
Two Guys were debuting a new product: curry. They had a chicken and a vegetarian version of a Kerala-style coconut curry. While a few tweaks are needed, the spice level was just about right (prominent and confident, but not overpowering) and I'm looking forward to seeing the other varieties of curry as they roll out.
In the hutongs off of Wudaoying, Stuff'd has introduced something they are calling The Last Supper – a hamburger patty in a calzone pizza with pepperoni and mozzarella. Sounds excessive, but who are we to say no to that?
Photos: Michael Vito, Cat Nelson
More stories by this author here.
Email: [email protected]
Twitter: @haimei_baole
Instagram: @haimei_baole
Weibo: @cat_nelson

Visit the original source and full text: the Beijinger Blog