For this edition of Talking Threads, Nancy Tong takes a look at a new shop in Aegean Shopping Center. Look for this review and other new venues in the April issue of the Beijinger magazine, now available on Issuu.com.
We've been waiting for this one for a long time – Beijing Institute of Fashion Technology (BIFT)'s has finally launched its retail space BIFT Works, which features one-of-a-kind student creations. It's been tucked up on the second floor of Aegean Shopping Center since last October, but its selection of womenswear, accessories, handbags, jewelry, and house décor is ever-expanding.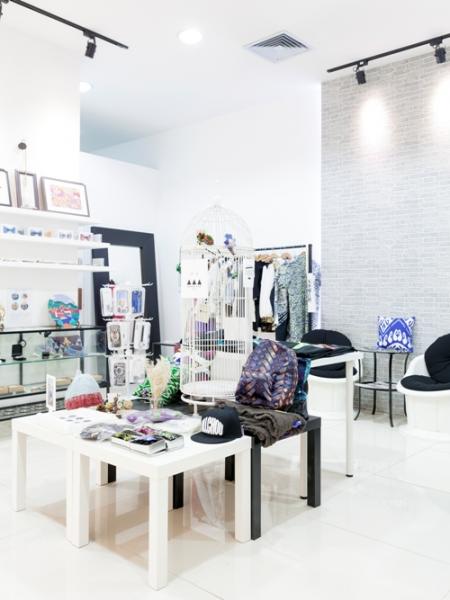 BIFT opened the store to provide public exposure for its young designers and kick start their experience in brand management. Any student can submit work to sell in the shop, but products are hand-picked by the managing professor, Wu Zhenping, and his team of brand management majors. In a nice twist, if projects are not accepted, students can work with teachers to improve quality to make their designs more marketable for customers.
The shop itself is a labor of love and completely in the hands of students, from the visual displays to the shopkeepers themselves, who are eager to introduce their peers' work. A second-year student showed us around, and it didn't take long for her knowledge and infectious excitement to get us swooning over treasures. We instantly loved the clothing collection by Aliya which was comprised of lightweight scuba knitwear in whimsical 3D cactus prints. Her modern shift dress (RMB 998) has precise craftsmanship and is modernly chic.
We also spotted supple leather and pressed wooded bags by FLUX (who also is stocked at Galeries Lafayette in Xidan) including a playful paint-splattered satchel made of thin Spain-imported cork (RMB 699). For the gents, we especially enjoyed the bow ties (RMB 89), available in a kaleidoscope of popping prints by Backyard.
Though the shop may be a bit off the beaten track, it's worth the trip if only to support budding local designers. And don't be surprised if one of your prized finds soon ends up featured in the pages of Vogue.
BIFT Works
Sun-Thurs 10am-10pm, Fri-Sat 10am-10.30pm. Unit F2010, Aegean Shopping Center, 12 Qishengzhongjie, Chaoyang District. (No number)
朝阳区七圣中街12号院爱琴海购物中心F2010
Also try: Brand New China
Photos: Sui

Visit the original source and full text: the Beijinger Blog