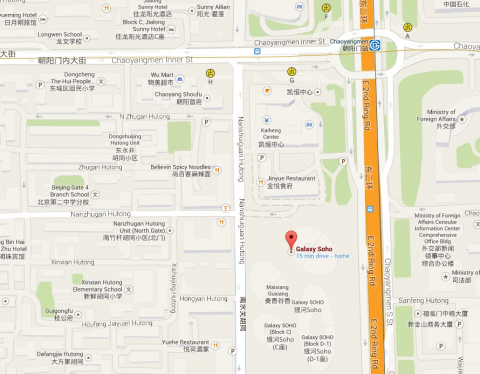 As our organizers scramble around Galaxy Soho checking passports and otherwise making sure that the second day of the Beijinger First International Foodie Weekend is ready to go, we wanted to give you a quick reminder as to how to get there (minus the tried and tested method of following your nose).
Zaha Hadid's famed Galaxy Soho/alien termite mound is located just a stone's throw south of Chaoyangmen Subway – you can enter the development directly from the stations on Line 6 and Line 2. Here, have a bangin' map:
The events starts at 11am and runs until 8pm, both Saturday and Sunday. See our full list of vendors here, there are about 30 of them!
Admission is free! Come down and eat, it should be a great weekend for food, music, and fun. See you there!
Image: Google Maps

Visit the original source and full text: the Beijinger Blog