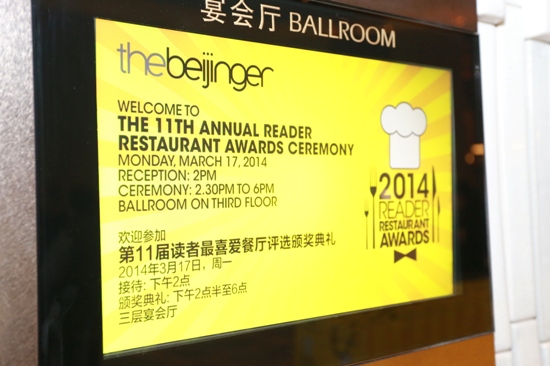 It was undoubtedly one of Beijing's biggest culinary glitz-and-glam gatherings and a wonderful afternoon/evening was had by all in attendance at the Beijinger's Eleventh Annual Reader Restaurant Awards. Cast aside were the kitchen frocks, instead the dining echelon of this city showed us a serving of stunning suits and exquisite dresses. Check out who in Beijing was the cream of the crop by looking at the full awards list for 2014 here, and here for a gallery of the proceedings.
As we say thank you to our readers for letting us know where you like to eat in Beijing, we would also like to extend our gratitude to all of our wonderful sponsors, without whom this annual event would not be possible.
A massive thank you to CONRAD Beijing for hosting our soiree; Vandergeeten for a stunning variety of beer and prizes in the form of Keizerrijk Van Bree, Warsteiner and Chimay; Grand Marnier for their delightful LED-lit cocktails; Aurora Events for supplying gelato and coffee; and additional prize sponsors Live In Vac, Sherpa's, Vogmask and China Wines & Spirits.
Check out a selection of pictures from the night here.
Photo: Beijinger

Visit the original source and full text: the Beijinger Blog