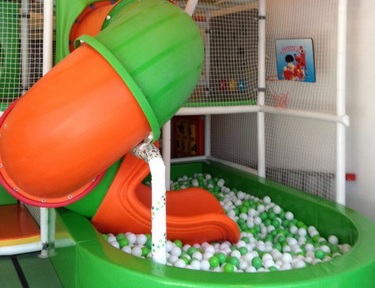 Like so many parents in Beijing, Liu Yue was disappointed with play areas for kids like Fundazzle and those ones in the middle of shopping malls. Sure, the kids have fun, but there is nothing for the parents to do. Unlike most parents, Liu Yue decided to do something about it. The result of her hard work and creativity is Lazyroo Kids Café in Wangjing.
Lazyroo offers kids a safe, fun, and even educational play environment while the café serves up meals, drinks, and WiFi so that parents can relax, get a bite to eat, and even get some work done. The café offers up a wide range of food options and beverages and even has DIY pizzas and a juice area for kids to make their own fresh-squeezed drinks. There is a tri-level climbing structure with slides and a ball pit, interlocking foam blocks, a reading area with English and Chinese books, a pellet box (think sandbox without the mess), games, and an Xbox.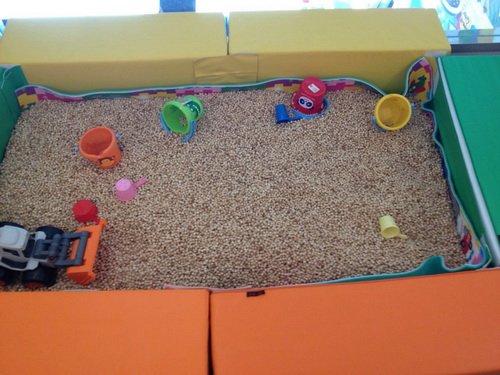 Liu Yue didn't leave anything to change. Lazyroo has its own bathrooms with kid-sized toilets and sinks, changing tables in both the men and women's bathrooms. There is a cozy room for nursing mothers who wish privacy. I also noticed about half a dozen Blueair filters on both floors.
Lazyroo is open seven days a week from 10am-9pm on weekdays and 9.30am-9.30pm on weekends. Admission is RMB 80 per child during the week and RMB 130 on weekends and holidays for three hours of play time. Membership cards are available with the benefit of 10-30 percent discount on entry depending on which membership you buy.
Email [email protected] for more information.
Lazyroo Kids Café
A-2F, Wangjing Commecial Centre, 9 Wangjing Street (136 0131 5960)
北京市朝阳区望京街9号望京国际商业中心A座二层
This post originally appeared on beijingkids.
Photos: Christopher Lay

Visit the original source and full text: the Beijinger Blog