A Hollywood adaptation of Tibetan Rock Dog, a graphic novel about a Tibetan Mastiff that comes to Beijing and makes it big as a rock and roller, is finally coming to the big screen this autumn, if recent hype from the Cannes Film Festival is to be believed.
Published in 2009 by Chinese rock star Zheng Jun and based bedtime stories he would tell his 10-year-old daughter, the film is being written for the screen and directed by Ash Brannon, who worked with Pixar on films such as Toy Story and Toy Story 2. The voiceover cast for the English-language film includes Luke Wilson, Eddie Izzard, JK Simmons (Whiplash), and Matt Dillon.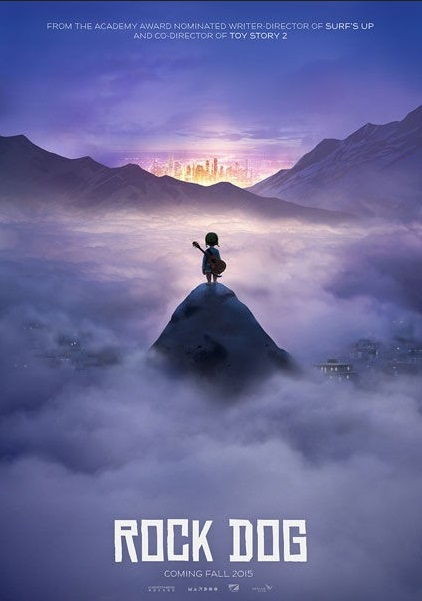 The story follows the exploits of Metal, a mastiff pup in Tibet, who is inspired by a radio DJ to look beyond the role of guard dog his father has mapped out for him. This leads him to travel to the big city to seek his future as a musician.
The brief English-language preview shows a city that has plenty of Chinese signage but is not instantly recognizable as Beijing ... it'll be interesting to see if there will be more:
From the trailer the film looks a little Disneyfied from the original comic, which, according to Joel Martinsen of Danwei, is "full of puns and pop-culture references." His descriptions of the main characters that make up Metal's band make it sound like a lot of fun:
Metal as lead singer;
Lead guitar Zorro, a short-haired, heavily-inked Great Dane whose master owns a tattoo parlor;
On keyboards is iKey, a Labrador. His master started an IT company when he came back from America, so he's obsessed with the Internet;
On drums is Vasily, a rottweiler from a martial arts family;
On bass is Wangcai, a St. Bernard from a Korean barbecue who became a vegetarian after customers attempted to buy and eat him when the restaurant ran out of beef;
Dingding, a schnauzer whose master is a crosstalk performer, acts as manager.
Rumors of a film adaptation have been around since the graphic novel was first published in 2009, when Zheng himself said he would adapt it for the big screen and write the music for the film. None came to pass.
The film is listed on IMDB as having an October 1 release date in China. Release dates for other territories have not yet been revealed. The backers of the film, leading Chinese production company Huayi Brothers, are eager to see this film become a step forward for Chinese "soft power": a Chinese-written and produced film using Hollywood talent.
If successful, it could do a lot to reverse the inferiority complex that was generated by the success of Kung Fu Panda, written and directed by Western filmmakers and produced by DreamWorks. Many Chinese lamented the fact that a film with a theme so tightly tied to China was not made by local filmmakers. 
While comparisons to Kung Fu Panda abound, Zheng himself took great pains prior to the 2009 release of the book to indicate that he had conceived the story several years before Kung Fu Panda hit the theaters in 2008.
Images: Wikipedia, comic.qq.com

Visit the original source and full text: the Beijinger Blog