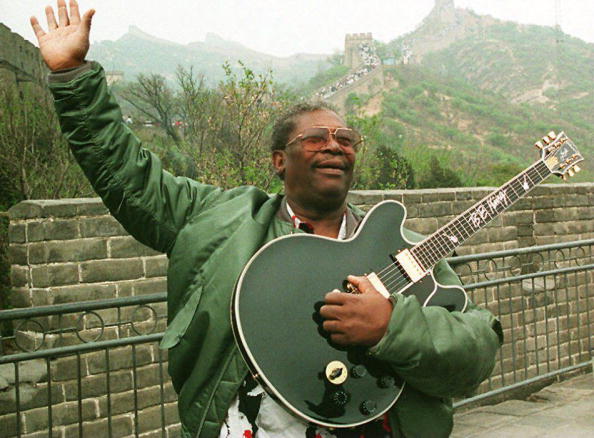 Blues guitarist BB King passed into legend on Thursday, dying at age 89 in Las Vegas. Ironically for Beijing, King died on the 21st anniversary of his performance at the opening of Beijing's Hard Rock Cafe, on May 14, 1994.
For more recent arrivals to Beijing, a local outlet of the Hard Rock Cafe operated in front of the Sheraton Great Wall Hotel, in a space now occupied by 8MM. The venue participated in Hard Rock Cafe 40th anniversary celebrations in June 2011, but had fallen into debt and closed in October, 2012.
The arrival of the Hard Rock brand in Beijing was seen as a potential kick-start for the city's active underground rock scene, but the restaurant's manager quickly poured cold water on the idea that the HRC was about to become the new home of rock n' roll. 
"No local bands are going to play here. This is gentle rock. We play the oldies. Our first performer will be blues guitar legend B.B. King next month," Alberto Toh, Asia area manager for Hotel Properties Ltd., the Singapore-based partner of Beijing's Tourism Administration in the franchise Hard Rock venture, told The Chicago Tribune in April 1994.
King was chosen not only because of his fame and skill, but also because he wouldn't ruffle any feathers. Live music performances were almost entirely underground at the time, and even the phrase "rock n' roll" was not permitted to be used on local airwaves.
King played a two-hour set for 300 guests, which included "diplomats, businessmen, and foreign celebrities," according to a report by The Associated Press (AP).
One fan who was very disappointed he couldn't get a ticket: rocker Cui Jian. Of course Cui wasn't as interested in chowing down on the Tupelo chicken tenders as he was to hear the guitar legend. "This is not a real Hard Rock Cafe. I think they are kissing the government's butt," Cui told the AP at the time. He waited outside for an hour to see King, but was ultimately not offered an invitation.
Rumors of a follow-up visit by King to Beijing in 2010, when Beijing Daze reported that King and Hong Kong singer/model Karen Mok would perform together at the Workers' Gymnasium, in what would have been one of the most bizarre mash-ups ever. However, the rumors proved false, and the Hard Rock gig was his only Beijing performance. He took Lucille, his guitar, with him to the Great Wall when he visited.
King was born on September 16, 1925 near Itta Bena, Mississippi. As he famously told the members of U2 in the film Rattle & Hum, "I can't play chords." He certainly made up for it. He was inducted into the Rock and Roll Hall of Fame in 1987. During his career, King won 15 Grammy Awards, as well as a Lifetime Achievement Award.
News of King's passing giving you the blues? Commiserate with fellow blues fans at one of these upcoming rock/blues-influenced gigs at Beijing area bars:
May 16: Charged-Up Blues Rock at Home Plate SLT with The Black Hipster
May 16: Magic Folk and Blues at La Bas with the Beijing Alchemists
May 20: The rock/blues stylings of the One Hung Low Band at Jianghu Bar
May 24: Blues Night at School bar with The Black Hipster
May 29-30: Jianghu Bar's Blues Weekend
More stories by this author here.
Email: [email protected]
Twitter: @greatwriteshark
Weibo:​ @SinoScuba潜水
Photo: Getty Images

Visit the original source and full text: the Beijinger Blog