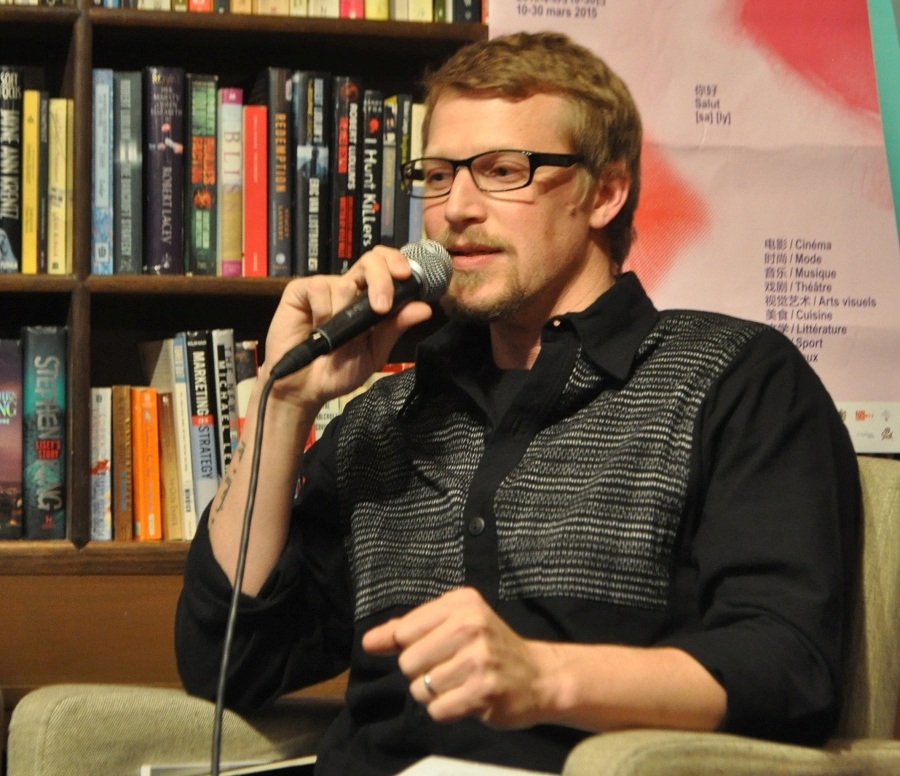 Bradford Philen
Author
The books on my shelf that have the most sentimental value are anything by my favorite authors, especially anything by James Baldwin is my precious. I like to hoard their works, kind of like how a kid might obsess over comic books or baseball card collecting (yeah, that was me, too). There's a lot of sentimental value on my bookshelf. I also have my mom's copy of Hamlet from when she studied it in college. That's a keeper.
The book I pretend to have read, but haven't really is War and Peace. Don't tell my colleagues [at International School of Beijing]. I'm a little scared of Tolstoy.
What I read while in the bathroom is all about basketball, especially Bill Simmons' The Book of Basketball. It's a friggin' encyclopedia about the NBA, but I do have beef with Simmons: he's totally biased towards his Boston Celtics. I'm a Lakers fan.
What I read on the subway is The New Yorker magazine. It's clever, poignant, and just important reading. It's fun too. I really dig the "Shouts and Murmurs" section.
The book I'm saving for old age is War and Peace. If I'm not ready in my old age, I'll never be ready.
The books that changed my life are James Baldwin's If Beale Street Could Talk and Richard Wright's The Outsider, they have to be at the top of the list. There have been many, but I think these two works finally forced (and allowed) me, in a genuine and heartfelt way, to fathom perspectives and life experiences outside of my own.
The character in a book you've had a crush on is Sweet from Toni Morrison's Song of Solomon, because, damn, she's fine…Milkman finally discovered how to love. I have a definite crush on Sweet, as should every reader.
The last book I read was, on a recent trip to Rome Anthony Doerr's Four Seasons in Rome: A Memoir. Fantastic read for writers and/or travelers. If you're not up on Doerr, check out his short story collection The Shell Collector.
The last book I bought was Native Speaker. At this year's Bookworm Festival I met and briefly spoke with Chang-Rae Lee. He's not only inspiring to listen to talk about the craft of writing, he's also a totally kind and humble soul. I got Native Speaker ready to go on my Kindle.
The book I wish I'd written is All the Pretty Horses by Cormac McCarthy. My homeboy got me into The Border Trilogy. McCarthy's style isn't for everyone, but I just fall into it. Beautiful prose.  
The book with the best ending is The Old Man and the Sea. That's an easy one. I have a soft spot for Santiago and his dreams of lions on an African beach.
The book with the best beginning is, I hate to be cliché, is Moby Dick. "Call me Ishmael." It's perfect, really. I went through a serious (and exhausting) Philip Roth stage. The Swede, as an intro to American Pastoral is up there as one of the most memorable beginnings.
The book I wish you hadn't read is Taipei by Tao Lin. It got great reviews, and I really, really wanted to like this book. It's just way too hipster for me. It's a book that, sadly, I could not finish. Do not recommend.
The book that surprised me most is a toss-up between Teju Cole's Open City and Chris Cleave's Little Bee. Having read a lot of Cole's essays, I think I was expecting a different pace. I read Cleave's work in one sitting. Both experiences were happy surprises for sure.
The fictional world I would most like to be part of? Throw me into Wise Blood by Flannery O'Connor, but just for, like, an hour or two. Or, Murakami's The Wind-Up Bird Chronicle would be pretty cool.
Bradford Philen's two books, Autumn Falls and Everything Is Insha'Allah are available from The Bookworm and Amazon.com.
More stories by this author here.
Email: [email protected]
Twitter: @greatwriteshark
Weibo:​ @SinoScuba潜水
 
Photo courtesy of Bradford Philen

Visit the original source and full text: the Beijinger Blog