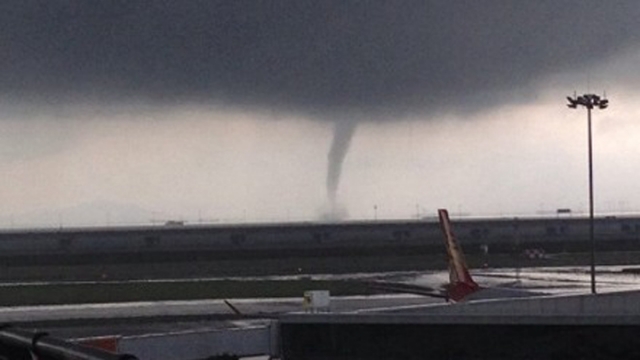 A shocking event occurred Monday near Shenzhen Airport: a tornado touched down, disrupting flights for hours, not to mention scaring a whole lot of travelers in the Pearl River Delta. We're now moving towards a season when travel, especially air travel, can be a problem.
Specifically in Beijing, Beijing Capital International Airport will be making scheduled runway repairs and upgrades May 23-28, so be aware of it and do everything possible not to fly out of Beijing. About 200 flights are expected to be affected.
More generally, the Shenzhen twister highlights something every Beijing traveler now needs to remember: it's spring, which means thunderstorms and rain in many places throughout the country (even if they're not common in Beijing). and that means travel delays, especially air delays.
There's a very simple solution: take the train. I'm going to say it: anyone who flies to Shanghai or a similar distance south of Beijing between now and September 1 is a fool. By buying an airline ticket to Shanghai, what you are saying is that you don't actually care when you arrive, or if you ever arrive. Spring is the season of stories of eight-hour, on-tarmac air delays, people going to Shanghai for midday meetings who finally land the next day.
This will also apply to destinations including Guangzhou, Hong Kong, and of course, Shenzhen. Now, Guangzhou is of course eight hours away by train, so that's a bit more of a coin toss. But it's the time of the year when people both business and pleasure travelers need to consider other options, ones that are less sensitive to the clouds in the spring sky.
Photo: The Nanfang

Visit the original source and full text: the Beijinger Blog