Rynostock, Shunyi's longest-running (and perhaps only) music festival, is once again pulling out all the stops to raise funds for the Shepherd's Field Children's Village tonight (Friday) and tomorrow at The Garage.
Put together with the help of the Mad Dogs Motorcycle Club, the event's proceeds will go to Shepherd's Field, which arranges medical care, foster care, education and permanent adoptions for special needs orphans of all ages in China.
This will be the 10th anniversary of the two-day event and the action kicks off tonight at 7.30pm with a lineup ska/punk/metal theme that features the following bands:
End of the World (7.45pm)
Bastards of Imperialism (Best Beijing Cover Band nominee, 8.05pm)
Harvesters of Sorrow (Metallica tribute band, 9.10pm)
Nakoma (10.15pm)
The party starts up again on Saturday at 1pm with a day-long series of concerts, this time with a more pop/rock theme featuring the following acts:
Dirty City
Disaster Chat
Strange Visitations (Best Beijing Cover Band nominee)
The Moochers
Chinese Vacation
WhibSib
The Beijing Beatles (Best Beijing Cover Band nominee)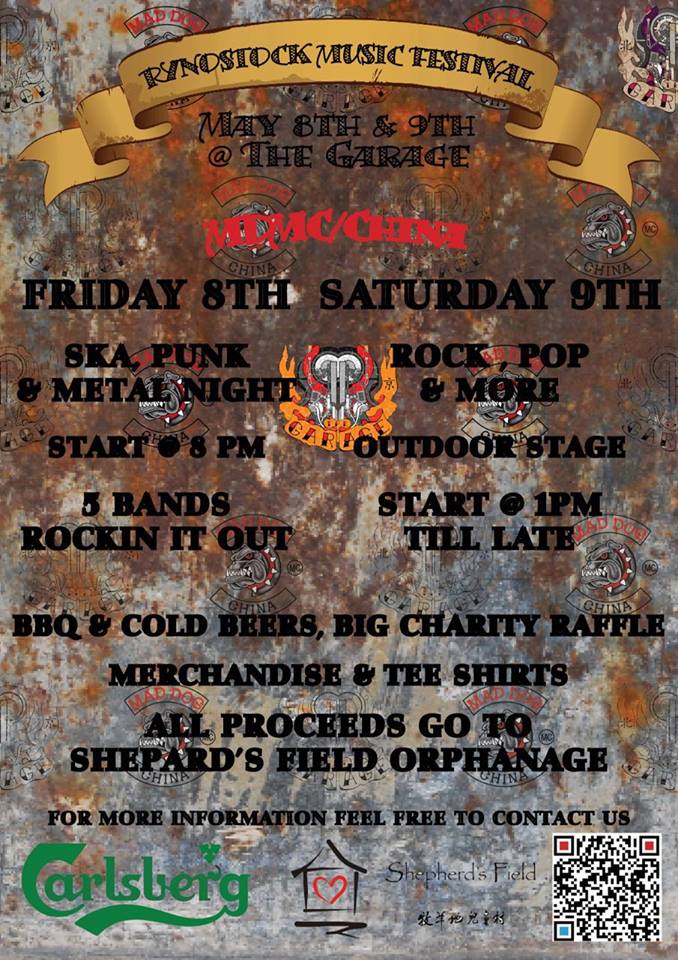 The event offers a chance to check out three of the seven nominees for Best Beijing Cover Band in the Beijinger's 2015 Reader Bar & Club Awards (cast a ballot here, through May 17).
Entrance is free, with raffle tickets and food being sold for charity (donations will be accepted as well).
Best yet, you can score some cool Mad Dog t-shirts and merchandise that will be a perfect memento to bring to friends back home when you're on your summer sojourn.
 
In true Shunyi fashion, the event is family-friendly and open to all ages.
For those of you unfamiliar with the wilds of Shunyi, The Garage is located on Yuyang Lu, just on the other side of the Wenyu River, 100 meters east of the south gate of Capital Paradise. For public transporters, It's about 2.5 km southwest of the Guozhan station on Line 15.
For those traveling from downtown, they have arranged free shuttle buses for Saturday, leaving from the north gate of Workers' Stadium at 12pm, 1:30pm, 3pm, 4:30pm and 6pm, and returning at 10pm and midnight.
This article first appeared on beijingkids.
Images: The Garage, Mad Dogs Motorcycle Club

Visit the original source and full text: the Beijinger Blog