Got You Covered takes a look at the nominees in the Best Cover Band category of the Beijinger's 2015 Reader Bar & Club Awards (vote here through May 17). In our debut of this series, we talk to Richard Barnes, guitarist for The Groove Collective, a band that covers funk, blues and blues rock classics at venues such as DDC, Jianghu, Four Corners and Home Plate Bar-B-Que.
The Band:
The Groove Collective
The Current Lineup:
Tash Jamieson - Vocals/Keys (Australia)
Richard Barnes - Guitar/Backing Vocals (UK)
Zhang Yan - Bass/Backing Vocals (China)
Yaya - Drums and Percussion (China)
(Previous incarnations of the band included Canadian Neil Laroque, American Marco Brun Del Rey, Australian Ken Wangdong, and Chinese drummer Lee Young III)
Sample Set List:
"Funk #49," The James Gang
"Give Me One Reason," Tracy Chapman
"Do It Again," Steely Dan
"Cocaine," Eric Clapton
"Ain't No Sunshine," Bill Withers
"Chain of Fools," Aretha Franklin
"Locked Out of Heaven," Bruno Mars
"Shape I'm In," Arc Angels
"Brick House," The Commodores
"Whipping Post," The Allman Brothers
Where you can see them next:
May 15 at Caravan
May 22 at Modernista
TBJ: In your mind, what is the key to a successful cover song?
Richard Barnes: I always think that the best covers are unique to the artist playing them, and you can hear that band's personality in their interpretation of the song. If you want to hear a cover that's exactly like the original, the best thing to do is see a specialist cover band. The Beijing Beatles do that amazingly well, that's what makes them so popular and I always have a good time at their shows. But Groove Collective takes a different approach—we don't stick to one particular band, and we can't completely recreate the originals, so we make the covers our own.

Video: The Groove Collective plays "Cocaine" at Temple with a previous lineup that featured Jamieson and Barnes along with former bassist Neil Laroque and Lee Young III on Drums.
TBJ: How do you put your own stamp on those songs?
Barnes: We'll link songs and let them flow together, by looking for tunes with similar tempos so that we can build an interlude between them. For example, we'll play Bill Withers "Ain't No Sunshine," and then blend it into "Funk #49," by the James Gang, or we'll take Tracy Chapman's "Gimme One Reason," and  interlude it with a Steely Dan song. Tracy's song is more 12-bar blues, while Steely Dan's is more of a four on the floor, but the tempo is similar and makes them fit well together.
We'll also change the structure a bit by switching around key parts—some bands might have a piano part, and we might combine that with guitar playing, or use a different instrument.
TBJ: Which of the covers that you play gets the best reaction from audiences?
Barnes: Probably "Whipping Post," by the Allman Brothers. We always end the set with that song, it's so powerful and a really great way to end a show.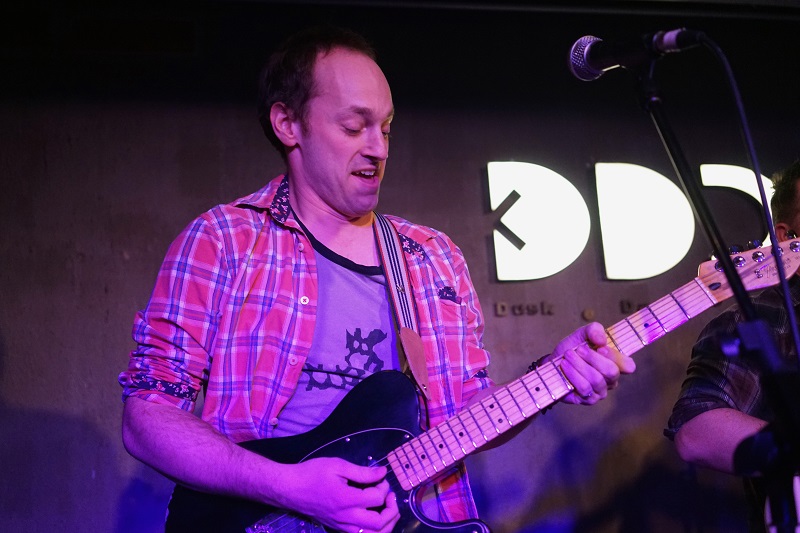 TBJ: How have the covers you play affected your songwriting or the direction of your original material?
Barnes: We play mostly covers now, but we have nine to ten originals written, and we're finishing the writing for five or six more. When Neil Laroque, our old bassist, and I founded the band we started with just covers, because that was so much easier to put together and we were so eager to play. As the lineup solidified we started coming up with originals and slipping more and more of them into our shows. We don't make jarring jumps between a cover song and an original song during our shows—now we'll play a few covers, then an original or two, and then back to some covers, and try to make the transition smooth. We plan on recording an album of mostly original material once we find enough time and get the right songs together. Our originals are more on the funky side than some of the blues covers we regularly play. But they have still have a helpful amount of bluesiness.
TBJ: What kind of crowd does your band attract?
Barnes: I'll see a good mixture of all kinds of people.  At Jianghu we'll always get a big Chinese crowd, sometimes Tianxiao, the owner, will come up and play his saxophone with us. When we started, only foreigners would come to our shows, but it's great to a more even mix now.

Video: The Groove Collective plays Get The Funk Out, an original composition, with Jamieson and Barnes along with former bassist Neil Laroque and Lee Young III on Drums.
TBJ: You think funk and blues music is becoming more popular with Chinese audiences?
Barnes: Yeah, now that things have opened up so much here, and now that it's easy to access music online, I think more and more Chinese people are being drawn to the blues and other music that they didn't have exposure to before. Also the groove of blues is very natural, when just about anyone hears it they'll instantly start tapping their foot.
Follow along with all of our 2015 Reader Bar & Club Awards coverage here.
Images: Courtesy of DDC

Visit the original source and full text: the Beijinger Blog