The newswires are buzzing this week about the May 18 launch of a Beijing burger restaurant angling to be the "Chinese version of Shake Shack" on Manhattan's Fifth Avenue.
The news first caught our eye last summer when a New York real estate blog noted that "Beijing-based burger chain" Uncle Sam's had rented a 5,600-square-foot (520 square meter) space at 307 Fifth Avenue near outlets of burger chains Shake Shack and McDonald's. The estimated rent on the place is USD 200 per square foot, which would put the monthly rent somewhere just north of USD 93,000 (RMB 568,000).
At first we were dumbstruck because there were no Uncle Sam's restaurants in Beijing, so any claims to have roots here seemed dubious (actually there was a McDonald's ripoff called Uncle Sam's that had one location in Jianguomen for a period of time, but that died off a decade or so ago – no relation).
But lo and behold, Uncle Sam's indeed popped up in January in two locations in Beijing – one near the train station, another near Jinrong Jie.
Uncle Sam's is being spun in the US as an upscale burger joint with premium prices and "bold Asian flavors." With a menu designed by a James Beard Award-winning chef and featuring burgers with ingredients like hoisin sauce, kimchi, and Cantonese barbecued pork, we were eager to see this concept up and running in Beijing.
Upon arrival at their establishment Wednesday in the Henderson Center near the Beijing Railway Station, we were sorely disappointed to learn that the most enticing menu items from the Manhattan outlet as described in their press release were either absent or dumbed down for the Beijing market.
We tried three burgers, three sides, and some desserts. In short: a competent but not exceptional burger; a fast-food atmosphere; partial sit-down service; and prices that will make you question the desire to return.
Three burgers, three sides, and two Cokes set us back RMB 190, with three slices of dessert totalling another RMB 105. Service was slow despite the lack of customers and the large number of employees in the open kitchen – I counted 10. No one on site appeared to be aware of an imminent Manhattan launch.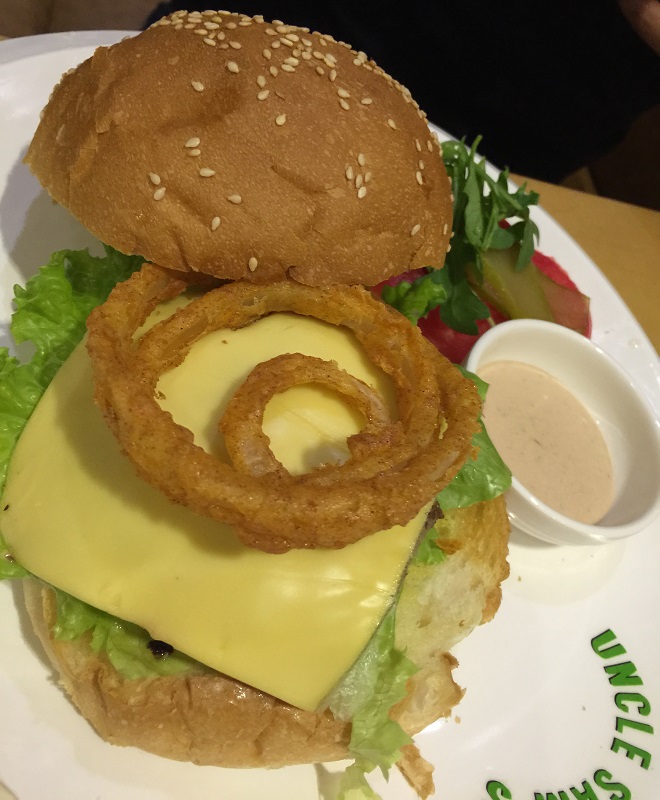 As for the main attraction, we ordered the Uncle Sam's Signature Burger, which in Manhattan is billed as a patty with sautéed mushrooms, oyster sauce, and Swiss cheese. The Beijing menu item with the same name has no mushrooms, no oyster sauce, and is served with a bland cheese we couldn't identify, but definitely was not Swiss. The burger is garnished with onion rings, lettuce, and thousand-Island dressing.
The 888 Burger sounded like the best of the bunch from the Manhattan press release – a shumai patty, Canadian bacon, char-siu bacon, and Sriracha mayo. The Beijing item consisted of a dry, deep-fried pork cutlet served on a bun with some sort of sweet sauce. Most curiously, the deep-fried patty was sliced into three even pieces that were arranged horizontally on the round bun – a geometric oddity that made it particularly hard to eat without falling apart.
Uncle Sam in Manhattan is also planning a Beijing Chicken 'Samwich' (featuring sliced cucumber, hoisin glaze, and scallions) which piqued our interest as something that paid an homage of sorts to Beijing. However, it's not for sale here. A chicken teriyaki burger takes its place.
We asked their press contact in the US about the differences. "Uncle Sam's has a similar menu in China with slightly different interpretations and names of some menu items," said Stephanie Fray, the PR contact for Uncle Sam's US launch. "The Chinese menu tends to skew more American while the New York menu will focus on more bold Asian flavors."
The burgers in the Manhattan joint are mostly priced between USD 5.95 (approximately RMB 36) and USD 8.95 (approximately  RMB 55), which makes the similarly-priced but more ordinary burgers in Beijing seem disproportionate. A few other New York menu items break the mold, with prices between USD 12.95 and USD 14.95 (about RMB 79 to 91).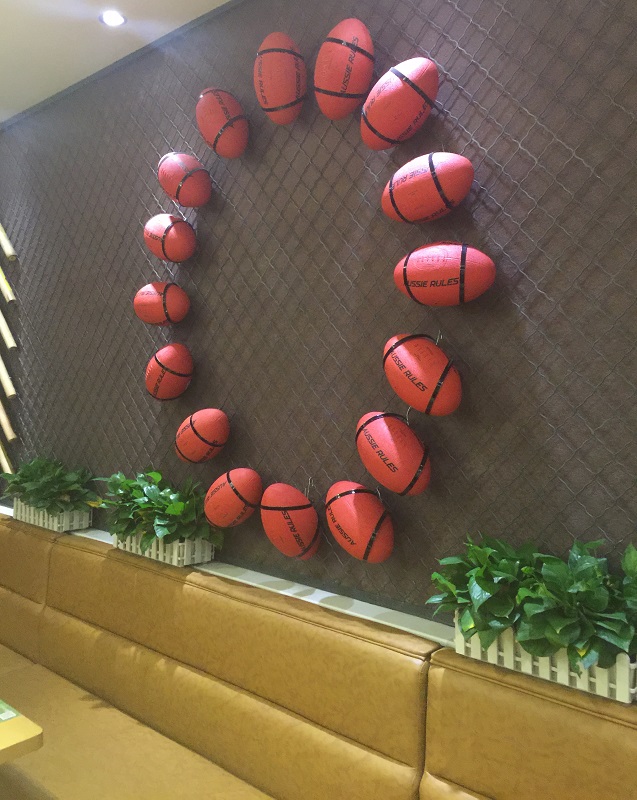 Decorations in the outlet we visited demonstrate a comically superficial attempt at imparting American culture. One wall is adorned with a large "SAM" spelled out awkwardly in skateboards; the other wall features 16 footballs arranged in a circle … but they're the wrong type of football: each is clearly marked "AUSSIE RULES."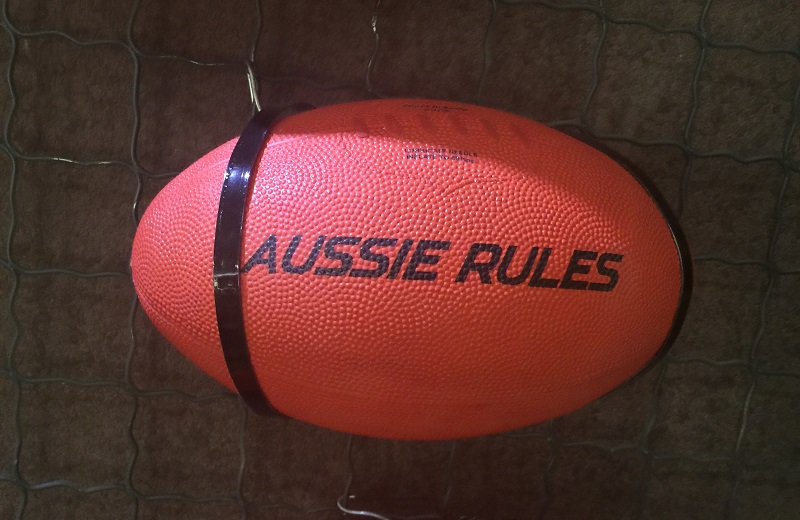 This is all not to say that Uncle Sam's was bad. The spicy burger wasn't all that spicy but was tasty and presented well, with fried Sichuan peppers and a slender fresh pepper presented on top. The fries, potato wedges, and onion rings were competent, and we all enjoyed the cheesecake, which was the creamy American style rather than the cakey type more commonly served round these parts. The desserts were presented with flair, though at RMB 35 per slice, overpriced.
However, dining here left us with the impression that this is not a plan cooked up by foodies in a test kitchen but by businessmen in a board room.
Bai Zhiming, the Beijing-based entrepreneur who is the man behind Uncle Sam's, appears to have observed the success of everything from Fatburger to McDonald's to Pizza Hut in Beijing, and said, "how hard can running a burger joint be?"
In a way it's a brilliant plan, and one that reeks of PT Barnum and his wisdom about suckers: Convince Beijing-based diners that they are eating burgers with a New York Fifth Avenue pedigree, while at the same time selling New Yorkers on "Asian flair" burgers that capitalize on the increasing trendiness of all things Asian/Chinese.
However, Bai has a few things to learn about consistency. The Beijing branches are of such mediocre quality compared to the promise of the Manhattan concept that they only appear to exist so as to be able to stick "Beijing-based chain" onto the press release.
More importantly, in a world connected by social media, it makes little sense for a chain to feature "signature" menu items that share the same names but almost entirely different ingredients.
Bai appears to have spent a lot of money on publicity in the US, while in Beijing the launch of the shops seemed to be a budget-conscious affair, with little buzz generated. Their Beijing press releases featured misspelled English, and they even went as far as to pull the classic "pay foreigners to dress up as employees" the day of the launch.
If this is the way it's going to be in Manhattan, I expect a short, brutal life for Uncle Sam's. However, if they truly deliver on the exotic menu items they are promising, it just might work.
There is nothing particularly 'Beijing' (or really even Chinese) about Uncle Sam's. Asian, yes – and given things like Panda Express going over well with American consumers, Bai can't be blamed for giving this one a shot.
But for Beijing patrons, we'd say: most definitely not worth going out of your way to try. Uncle Sam is serviceable, overpriced, and thoroughly ordinary.
Photos: Michael Wester, Tobal Loyola

Visit the original source and full text: the Beijinger Blog