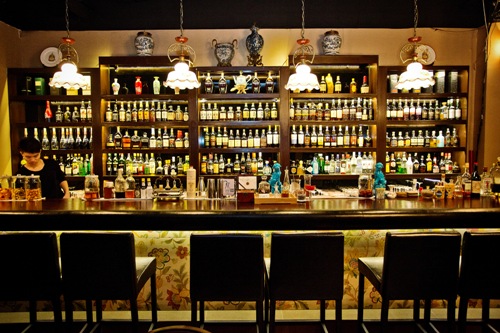 Parlor has company. Xindonglu, with its Bentley Motors dealership and Gatsby theme parties, is seeing a series of new openings from more bars that resonate with elegance and expertly-made craft cocktails. It has all been enough for Weixin to publish an article that tentatively names the area "Beijing's newest hotspot." While the label is loaded, there is promise in the latest to join the fray, Drink House Whisky Bar, a realization of Club99's Tony Zhao.
Zhao twists the classic English gentlemen's club with Chinese accoutrements. Leather bar stools are greeted with florid tiling, peony prints with oak tables, velvet curtains with red screens, and Waterford crystal with delicate porcelain. Aside from a few furnishings that seem out of place (mod, black bookshelves and exposed piping, for instance), Drink House caters comfortably to the chic and thirsty, right down to that point in the night that requires loosening up the bowtie and grabbing a nightcap.
An extensive whiskey collection is presented within a singular menu, and each pour is classified by its smell, initial taste and aftertaste. The detailed entries support expert claims that a single glass of malt whiskey can exhibit up to 30 separate aromas, delivering a not-quite-so-
exhaustive set of adjectives that span both the objective and imaginative, like "grassy," "nutty," "leathery," "oak," and "toffee." It's a pleasurable language game for even the most tuned whiskey tasters, while inviting the rookies with a comprehensive guide to Scotch.
Cocktails (RMB 70-90), meanwhile, range from the classic martini, threaded with orange bitters gleaned from a stately two-tiered platter, to nightclub favorites like the Singapore Sling and Blue Hawaii. Staff prepare the latter not with the haste of a dance floor barman, but like they're serving Maile Duval in the Elvis Presley film that shares the drink's name. Once again, it's the detail that's alluring, from the Sterling silver serving platter, right down to the gold cocktail shaker.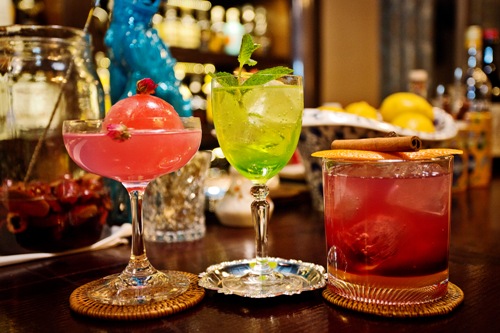 Drink House Whisky Bar
Daily 7pm-2am. 110 Bldg B, Yishengge, 10 Xingdong Lu, Chaoyang District (8842 5763) 
朝阳区新东路10号逸盛阁B座110号
This article first appeared in our March 2014 issue.
Photo: Ken

Visit the original source and full text: the Beijinger Blog