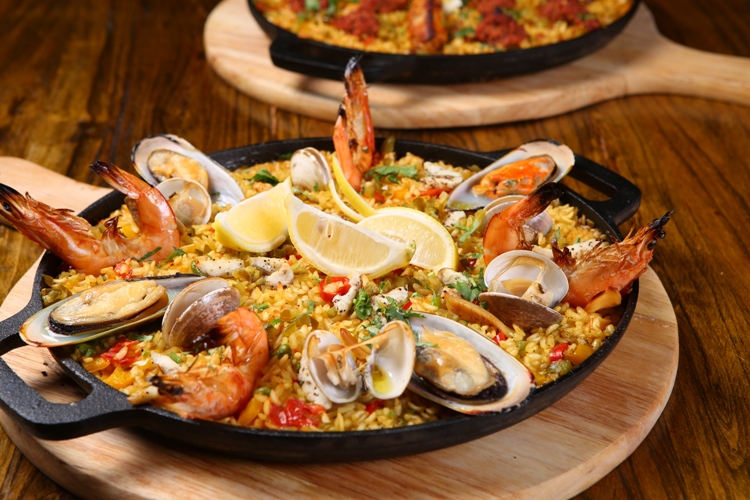 Every month, we like to shine a spotlight on the most delicious dishes we've stumbled upon recently. Chow down!
breakfast burger
Ramo, RMB 58
Up and coming Ramo in Fangjia Hutong has some mean new brunch items on their menu. Take the breakfast burger for example: A bun stuffed with a meat patty topped off with beautifully melted cheddar cheese, crispy bacon, avocado slices, a fried egg, some lettuce, tomato, and onion served alongside baked potatoes.
triple whole grain salad
Element Fresh, RMB 68
Made with quinoa, bulgur wheat, Chinese adlay millet, and grilled tofu with pesto, this vegetarian dish will win over even the committed carnivore. The delicious mix and satisfying crunch is part of Element Fresh's spring and summer menu, which also features five new dishes developed in cooperation with the restaurant chain's new partner, former tennis champion Li Na.
mixed paella
Q Mex, RMB 198
Part of Q Mex's new menu, this paella (pictured above) has a real kick. It mixes both the seafood and the chicken & sausage version, and is filled with goodies: Tender chicken thigh, huge mussels, mouth-watering spicy prawns, sausage, and chicken wings.
yunnan fried goat's cheese
Dali Renjia, RMB 29
Every once in a while you'll crave that cheese, and forget that Yunnan restaurants can generally satisfy that craving. Especially the fried goat's cheese at Dali Renjia, seasoned with salt, chili flakes, and other delicious spices originating in that Southwestern corner of China everyone loves so much.
tribe xiao mian
Tribe, RMB 62
Tribe's healthier take on this traditional Chongqing noodle dish swaps out pork for vegan ground sausage, cuts down on the oil and includes gluten-free buckwheat noodles. Spice fiends will find it's just as hot as the original though.
Photo Courtesy of Q Mex

Visit the original source and full text: the Beijinger Blog