Here's a rather extensive list of all you can do this long weekend in lieu of all those pesky festivals that have been cancelled or forced out of our immediate vicinity. There's still a pretty radical selection of parties and concerts to choose from. All we can do is hope that "The Man" is too tired from squashing Gaymazing Races and Craft Beer Festivals to mess with these.
2015 SOTX Fest Fake Music Media Presentation: Nova Heart, Juveniles (Fr), Clarens (Fr), Farewell Dear Ghost (Aut), WHAI (April 30)
What a lineup! Check out this superb group of artists from Beijing and Europe as they lull you into a fever dream of ecstatic pop and sultry divinations of song and dance. The sounds here are somewhere between Top of the Pops circa 1983 and your deepest darkest nightmares. Worth checking out. RMB 120, RMB 90 (advance)
The Bullpen's All-Day Happy Hour (Apr 29-30)
Home Plate Bar-B-Que invites you to their newly named bar, The Bullpen, at their Sanlitun location, for an open to close happy hour from 11am-2am. They are posing to be the premiere place for a little wild Americana bar action, with sports, drinks, and great bar food that is sure to put you in a heart pounding frenzy. You can find mixed drinks for RMB 15, Slow Boat draft for RMB 35, and house wine for RMB 30. A pretty enticing deal if you ask us.
UK music veteran, Howie B, will be kicking off the holiday weekend with some trippy electronic jams at Dada. Fresh off of scoring the new psychedelic romance Ever Since We Love that hit theaters on April 17th, starring Li Yu and Fan Bingbing, you've without a doubt heard his influence a number of major motion picture soundtracks and on the dance floor. This Thursday he will be supported by the techno sorcery of Ni Bing and Dumb Plants. RMB 60
Join MAE as they celebrate two exciting events at Tango 3rd Floor, the first being the launch of a new collaborative dance track between Beijing reggae giants Long Shen Dao and the Dutch DJ duo The Partysquad, and also the inauguration of the Mad Panda DJ agency. RMB 100 (presale), RMB 150 (door)
Migas and Back2Basics present ATA (May 1)
Join the mac daddy of Frankfurt's dance music scene as he descends on Beijing for a wild night of heavy thumping, bumping, and crunking. As founder of the Robert Johnson Club and Delirium Records, ATA is a huge player in the scene and tastemaker for many an aspiring DJ. Catch him at the Migas rooftop, where he'll be showcasing these talents in true Bacchanalian form. RMB 50
To celebrate International Workers' Day, the Jing A peeps will be giving away an entire keg of Workers' Pale Ale. There's a catch though. You must show up in uniform. This attire can be one of three things, a hard hat, overalls, and or a bao'an uniform. With this costume, you'll get one free pint. But wait, it gets even better. If you stack these costumes, like wearing overalls and a hard hat you can potentially grab two of these on the house pints. So suit up in your labor gear and prepare to free beer.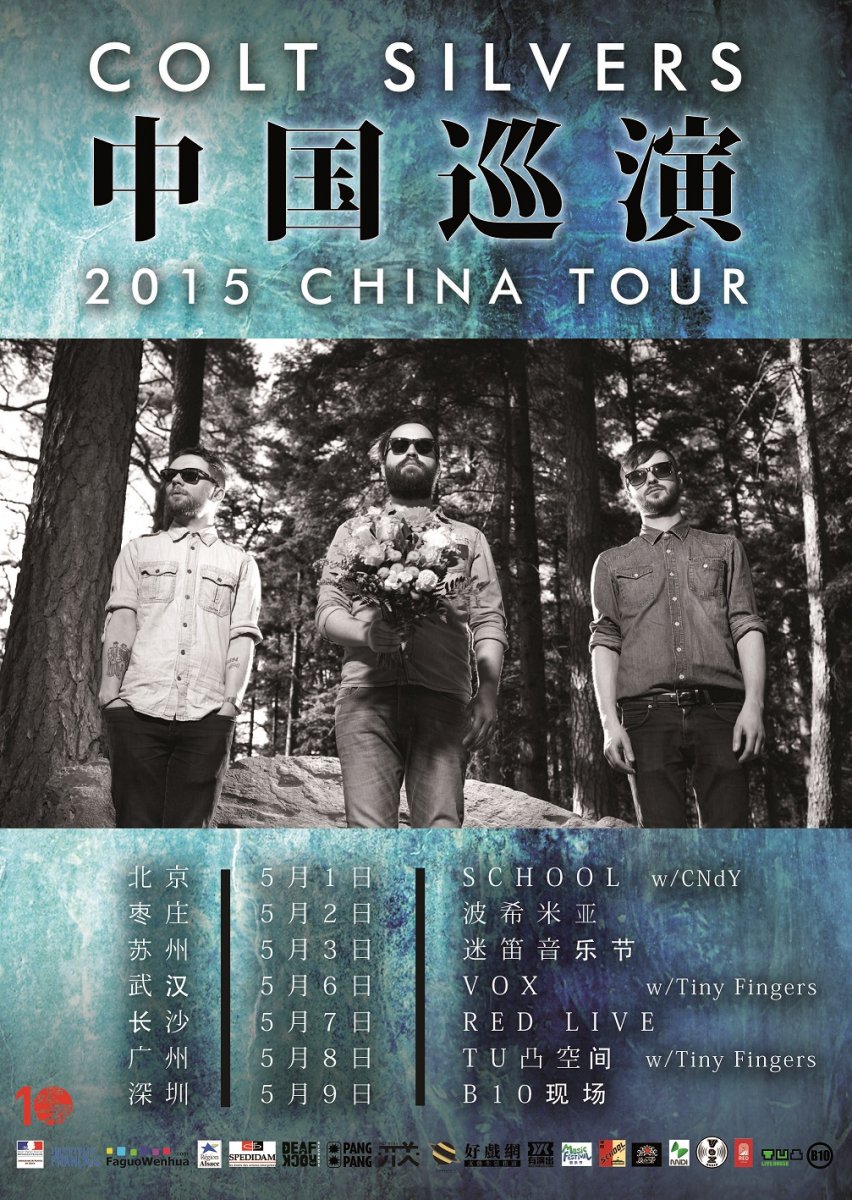 Colt Silvers (France) Beijing Showcase Show with CNdY and SNSOS (May 1)
French electro punks Colt Silvers return to China for the third straight year, to light up School Bar with some aggressive but entrancing rock songs that could only be fabricated by the types of juvenile kidults that spend most of their day in pajamas watching Hanna-Barberra cartoons and eating soggy cereal. It will be raw and boyish in the best way possible. Support for Colt Silvers comes from Beijing electronica act CNdY and post-rockers SNSOS. RMB 80 (includes one beer), RMB 60  (advance).

Carly Rae Jepsen Beijing Concert (May 1)
Canadian mega-pop chanteuse Carly Rae Jepsen hit it big on the pop charts in 2012 with her ubiquitous "Call Me Maybe." Catch this infectious tune and others live as she drops into Beijing and gets crazy baby. This might be the most fun/obnoxious option of the weekend, but you still might catch a couple of us attending as it's a hefty percentage cheaper than some of the other large acts playing over the holiday. RMB 280-680. 7.30pm.
Make Out Club at Dada (May 2)
These sleazy gents collaborate for an evening of deep cheese from pandoras box of histories forgotten dance music. If you like glam, new wave, disco, 80s funk, and pretty much any genre that would make a normie cringe, then this will be an incredible evening. DJs Ozone, Compact Dicks, and the Count of Monte Disco will be laying it on thick until morning, so whether you plan to begin or end your evening on the Dada dance floor you can expect a proper sleaze pummeling.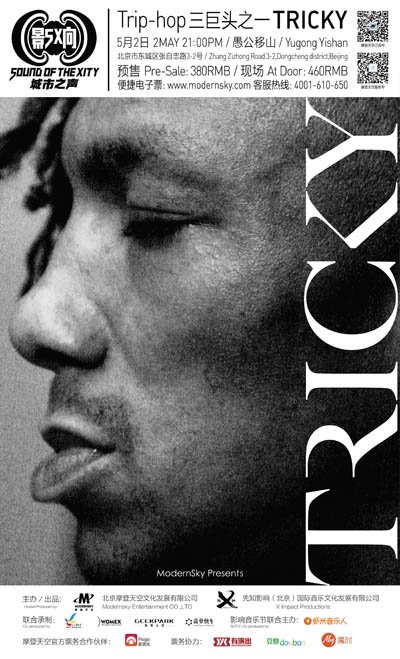 2015 SOTX Fest Modern Sky Presents: Tricky (May 2)
Holy crap, two UK music legends in one week. Head over to Yugong Yishan on Saturday, May 2 for the SOTX/Modern Sky collaboration that brings Tricky to center stage. As one of the originators of trip hop, he will blow your mind with his psycho subliminal suggestions and dense musical assaults. He has collaborated extensively with other artists, including Bjork, Cyndi Lauper, The Red Hot Chili Peppers, Alison Goldfrapp of Goldfrapp also many others. RMB 460 (door) / 380 (advance) 9pm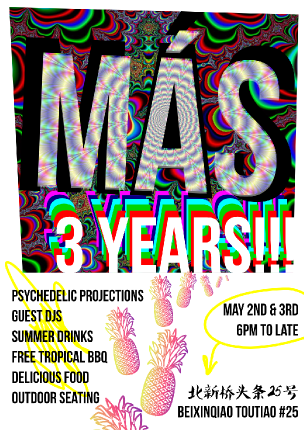 Más three-year anniversary party! (May 2-3)
Beijing's best tiki bar and taco shack, Más, is celebrating three years as your go-to place for quality drinks and a laid back tropical atmosphere. This weekend they will be serving up free BBQ, like their delicious jerk chicken and mojo pork, along with a couple choice DJs playing their dense libraries of old psych tunes, sleazy disco, and new wave. For the cherry on top, you can also check out their latest exhibition of art from former Beijing resident Silvia Llopis. It should be a nice way to spend the weekend or pre-game before some of the more epic offerings of this Worker's Day weekend. (Note: BBQ is while supplies last and with a drink purchase.)
Say goodbye to this much-loved venue of classic video games and potent potables with one last rager. You can expect plenty damaged audio from DJ GUIGZ and drink specials to get you pounding those game controllers into oblivion.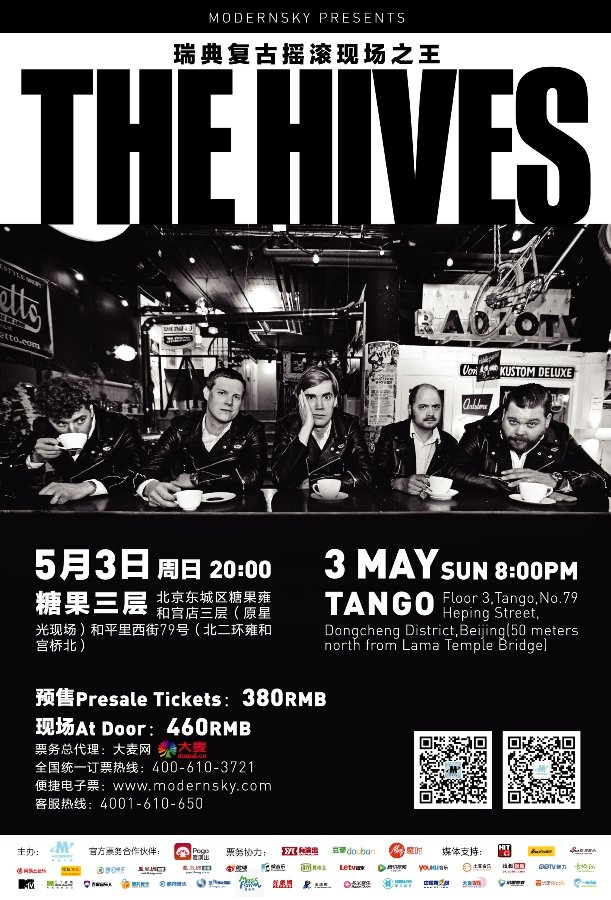 Swedish rock band, The Hives, head to China for the first time. Originally set to play Strawberry Festival, they will be bringing their garage rock licks and kinetic live show to Tango 3F instead. The combination of The Hives and Tricky in one weekend freaks us out a little like maybe our 2004 selves were planning all the big shows this weekend. Let's hope they bring their A game at this price. RMB 460, RMB 380 (advance) Tickets and info can be found here.
Remember the Beijinger maxim: all events pre-cancelled, or your money back.
Photos courtesy of the organizers

Visit the original source and full text: the Beijinger Blog