With spring just around the corner and the days peeling away, so do those winter layers. We all hope to be a little more jam than jelly when shorts and T-shirt weather returns.
Pulse Health's facilities are state of the art with everything you might need to unleash your inner Hercules or simply to counteract your penchant for fast food. There are three squash courts and plenty of machines for whatever you choose to exercise. For cardio, you will find everything from treadmills and ellipticals, to a rowing machine. There are plenty of evenly spaced weight machines and an ample amount of free weights to get your pump on. A range of classes are offered and run in both English and Mandarin, with an exceptionally skilled staff teaching yoga, Pilates, Tae Bo, belly dancing, step, and Zumba. They also offer Kung Fu classes on the weekends, from a Shaolin trained instructor no less, for an additional charge.
If swimming is your preferred exercise, there is a pool located above the hotel, but it'll cost a bit extra to get wet. The locker rooms are clean and well designed. They offer storage, showers, steam and sauna rooms, and a small rest area with four reclining chairs to take a load off.
Gym memberships are something of a luxury in Beijing meaning they don't come cheap. A standard annual membership will set you back RMB 14,500. With quality comes a high price tag, and this fitness center is no exception. It is a tad steep, but this is a high-end fitness center, and as they say: "no pain, no gain."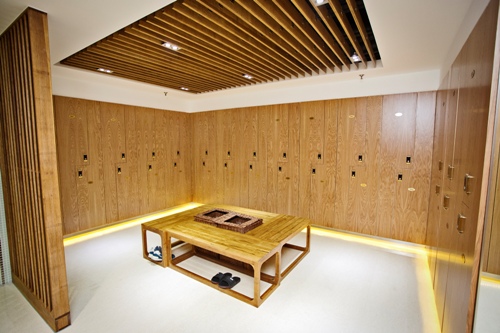 Pulse Health Squash & Sports Center 
Daily 6am-10.30pm. B1 Kempinski Hotel Beijing, Lufthansa Center, 50 Liangmaqiao Road, Chaoyang District (6410 4198)
亮马桥路50号凯宾斯基饭店B1层
This review first appeared in our March 2014 issue.
Photos: Ken

Visit the original source and full text: the Beijinger Blog