If you have yet to get down to Shuangjing's Pingod complex to check out Trash 'n' Diamond, one of Beijing's only trade-in clothing boutiques, then you might be pleased to hear they already have a second location underway. This time, it's in the opposite side of Beijing and aimed at a totally different set of customers: students in Wudaokou.
While the selective shop's Shuangjing boutique is more focused on designer wear, the smaller Wudaokou branch is aimed at the younger crowd, with more variety and lower prices. But this doesn't mean that they're not picky – owner Fang Fang says shoppers can still expect quality pieces that are still in fashion, and their trade-in policy still applies (bring in your clothes, and they'll pick out the garments they want and offer either a store discount or cash in exchange).
Her main hope is to spread the acceptance of second hand and recycled clothing as a style choice in the Chinese community, and after targeting students, she says they may even expand to a third location.
We spotted a few vintage pieces that were priced between RMB 150-500, but most items hovered between RMB 40-100. With clothing constantly rotating each time someone sells their unwanted garments to the shop, it's certainly a place that allows for several visits in a short span of time. And if you can't make it to Wudaokou, follow them on Wechat (ID: TrashnDiamond) to see updates on new items.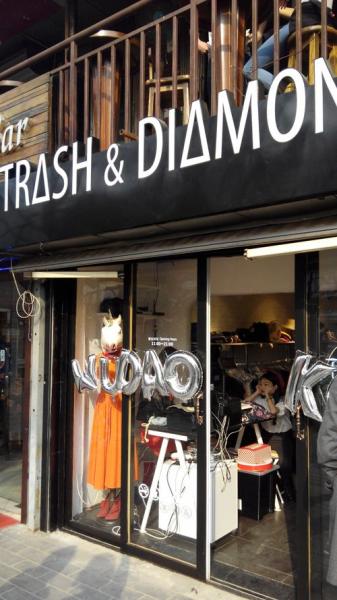 Trash 'n' Diamond (Wudaokou)
21 Dongsheng Road (opposite the east gate of the Wudaokou Hotel), Haidian District (6231 3479)
海淀区东升路21号, 五道口宾馆东门对面
Email: [email protected]
Check out my picks for cocktails and clothes (and cats) on Instagram: @jrapppp
More stories by this author here

Visit the original source and full text: the Beijinger Blog