It's visitor season! And this means dragging your parents and friends around the Forbidden City. Or does it? Here are three interesting historical residences in Beijing that you probably haven't been to either, and that make a great afternoon in terms of soaking up sun in beautifully preened courtyards, and a little bit of history too.
 
The Former Residence of Mao Zedong
Mao Zedong (1893-1976), arguably the most important person in Modern Chinese history and the founding father of the People's Republic of China, lived near Jingshan Park for a year between 1918 and 1919. He lived with seven young men who founded the Xinmin Institute – an institute aimed at researching Marx, Engels and Lenin, and looking into useful ideas from foreign countries for China's future development.
The residence itself is located inside a huge courtyard, with three rooms including living quarters, a bathroom and kitchen, and is protected by the Beijing Municipal Cultural Relics for Protection thus making for a relaxing stroll.
Ticket price? Free
Why go? Teach your visitors about Mao in his former Beijing residence.
Tue-Sun 9-11am, 1-4pm. Jingshan Dongjie, 8 Ji'an Suo Zuoxiang, Dongcheng District (6882 1268)
东城区景山东街吉安所左巷8号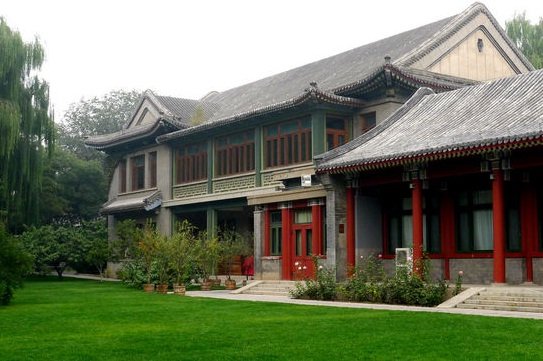 The Former Residence of Soong Ching Ling
Soong Ching Ling (1893-1981) was Sun Yat-Sen's wife, the man who is often called the Father of Modern China the first Nationalist revolution against the Qing Dynasty and was the first president of the Republic of China. Following her husband's death, Soong Ching Ling defected to the communists, becoming notorious for her ideological flip-flop.
The house where she lived in Beijing was built by a Greek captain in 1920 and prior to that was a Qing Dynasty residence and garden. The courtyard is beautiful and incorporates a lake-the perfect environment to learn about Soong Ching Ling's life and China's 20th century.
Ticket price? RMB 20 (adults), RMB 10 (seniors and students)
Why go? Perfect to learn about China's 20th century history.
Daily 9am-4.30pm. 46 Houhai Beiyan, Xicheng District (6474 7183, www.shsoong-chingling.com)
西城区后海北沿46号
 
The Former Residence of Guo Moruo (pictured at top)
Guo Moruo (1892-1978) was an important scholar and artist in Modern China. He was the leader of the Chinese Academy of Social Sciences and the Chinese Academy of Sciences, and highly influential in his perspective on Chinese development.
The mansion covers over 7,000 square meters, and has more history than just Guo's life: prior to Guo's moving in it belonged to a top corrupt official of the Qing Dynasty: He Shen. Following Shen's arrest, it was a pharmacy store during the Republic of China, and then at the establishment of the People's Republic of China it became the Mongolian embassy until 1963 when Guo moved in and lived there until his passing.
Ticket price? RMB 20 (adults), RMB 10 (students)
Why go? Enjoy the tranquility of this mansion's gardens with a fascinating and long history.
Tue-Sun 9am-4.30pm. 18 Qianhai Xijie, Xicheng District (6612 5984)
西城区前海西街18号
More stories by this author here.
Email: [email protected]
Instagram: @s.xuagram
Photo: Shangpu518, tupian.baike.com

Visit the original source and full text: the Beijinger Blog