Organizers of what was to be one of the first major Earth Day celebrations in Beijing have been denied the proper permits for the festival that was to have taken place Wednesday at Sanlitun SOHO.
Primary organizers Gung Ho! Gourmet Pizza Factory, who partnered with outdoor clothing manufacturer Patagonia and environmental business network One Percent for the Planet to put together the festival, were informed by the relevant authorities Monday that the festival will be shut down if organizers attempt to hold it.
Authorities cited improper paperwork for the denial of permission, although Beijing Earth Day planners said they have been working closely with relevant officials over the past weeks to follow proper procedures.
Sadly, the event was to be one to remember, with 34 supporters signed up to take part. The festival was to have included environmental presentations, live performances, children's entertainment, movie screenings gourmet pizza, craft beer and more. The Beijinger was a media sponsor of the event as well.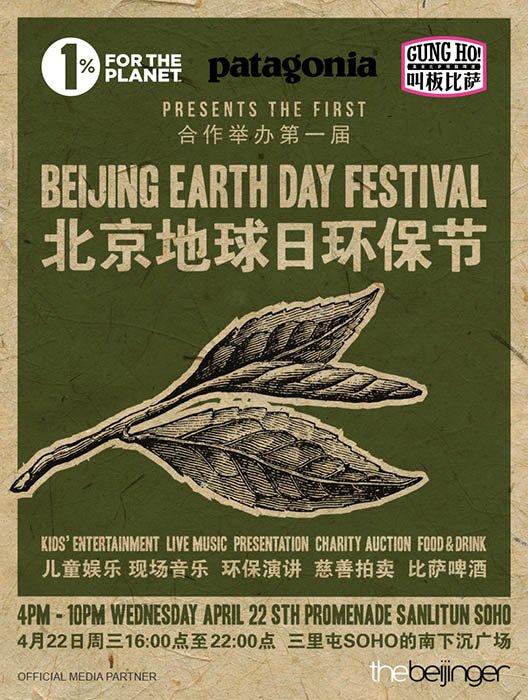 The denial seems odd given that Sanlitun SOHO has regularly played host to all manner of festivals in recent years without incident.
It would be easy to conclude the environmental angle of the festival is what gave the authorities the heebie-jeebies, what with the recent widespread release and subsequent smothering of Chai Jing's documentary on air pollution "Under the Dome," though one can only speculate.
Earth Day was first conceived in the US in 1970 and is now marked with events in more than 192 countries annually.
Organizers say there is currently no plan to reschedule the event.
Photo: Gung Ho! Gourmet Pizza Factory

Visit the original source and full text: the Beijinger Blog