This is part one in a series of articles over on our sister publication beijing-kids.com, in which we explore the lives of modern expat families who have experienced a completely different side of Beijing than the usual or live in unique circumstances.
Long-term expat Craig Watts first came to Asia in 1989 as a university student in Taiwan. Though his heart was set on China, the Utah native lived in Japan for several years before moving to Shanghai and then Beijing in 2001. Watts is a single gay dad with thee biological sons (including a pair of twins), all under the age of 3 and all born through in-vitro fertilization (IVF) in Thailand. In addition to being a busy dad, Watts has a full-time job working for advertising giant Group M. During our visit to the family's hutong home, the twins were just getting over a cold. The smallest of the brood, Gary (16 months), clung to Dad while big brother Ezra (age 2) was all smiles. With both a full-time and a part-time ayi there to help, we were able to chat with Watts about what it's like to be a single gay dad living in Beijing.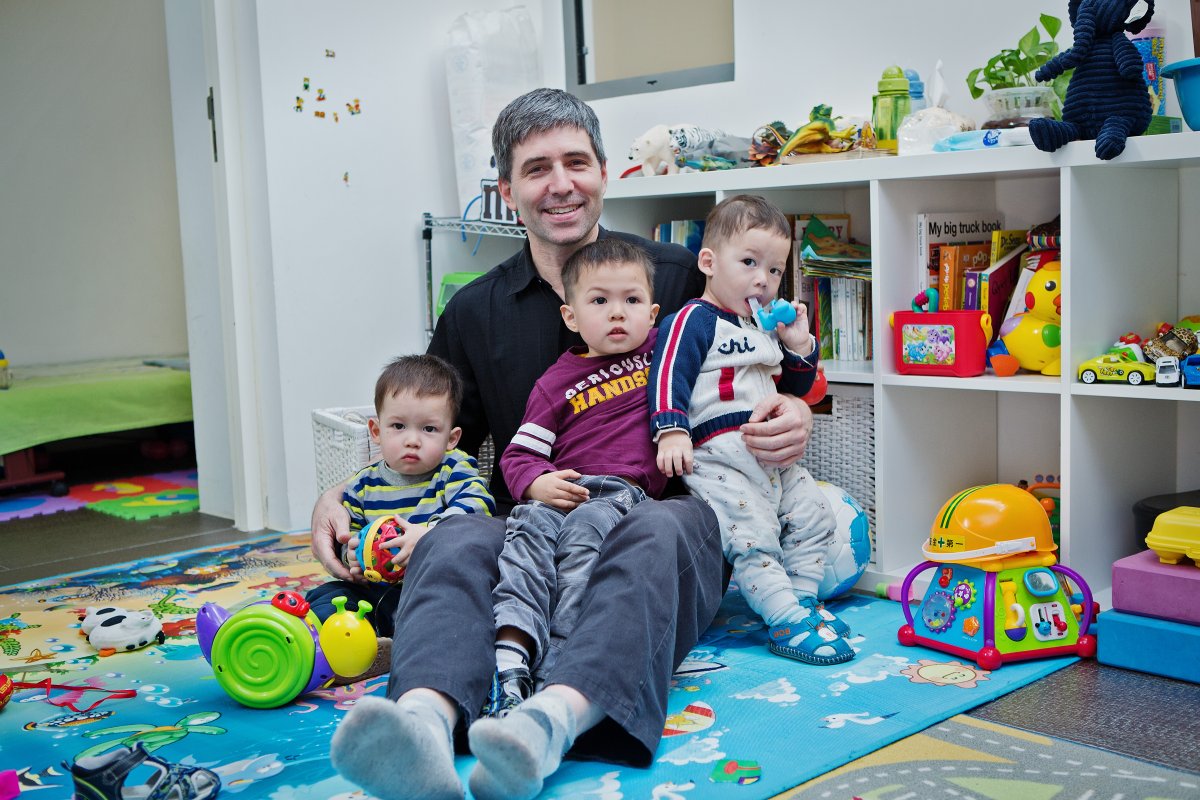 Tell us a bit about the process of finding an egg donor and a surrogate. 
I worked with one agency for all three kids. I found agencies through online research and met with four or five that made sense and were willing to work with gay people. We used a separate Thai egg donor and surrogate, but genetically [the boys] are full brothers. 
The agency gives you a basic profile [for each egg donor]: height, weight, education background, a couple of pictures, and from there you choose. The donor wanted to be anonymous but the agency says when the kids are 18, the mother is open to meeting if the kids want to. 
Getting the egg donor, the embryos, the egg retrieval, and the fertilization in the test tube is the first step. Once that's done, they prepare the surrogate's body to accept the embryos and hope she gets pregnant. They freeze the embryos for the second or third try in case the first time doesn't work or if [they] have a miscarriage.
Were you surprised to find out you'd be having twins? 
When they told me it was two boys, I thought, "I can't believe this!" I thought two was going to be a handful. All of a sudden I'm going to have three and I'm on my own in China? 
What has been the biggest challenge so far?
[The twins] were born two months premature so their lungs aren't too good and it's easy for them to get pneumonia. It happened to Joe already and he had to stay in the hospital, so we try to keep them from being exposed to too many germs.
Read the remainder of this article here and learn about other modern families in Beijing from beijingkids here.
Photos: Ken

Visit the original source and full text: the Beijinger Blog