After months of self-confinement, it's time to take advantage of the warming temperatures and engage in manual labor – the fun kind, we swear – on the outskirts of Beijing. Areas like Changping, Daxing, and Huairouare hotbeds of strawberry cultivation; grown indoors in greenhouses, the many strains and varieties of fruitallow Beijing residents to pick their own strawberries as late as June. The little red fruits are a great source of vitamin C, fiber, antioxidants, minerals, and flavonoids, and can be eaten raw, baked into desserts, used as toppings, or made into preserves.
Beijing's pick-your-own-fruit farms are staffed by locals, so brush up on your Chinese or get a Chinese-speaking friend to call ahead and inquire on your behalf. Most farms charge by the jin (500g) and don't necessarily have restaurants nearby, so it's a good idea to pack a lunch, some snacks, and enough hydration. The suggestions in this article are just a starting point; even if your chosen farm isn't open on the day of your visit, just drive around the area and you'll be sure to run into another.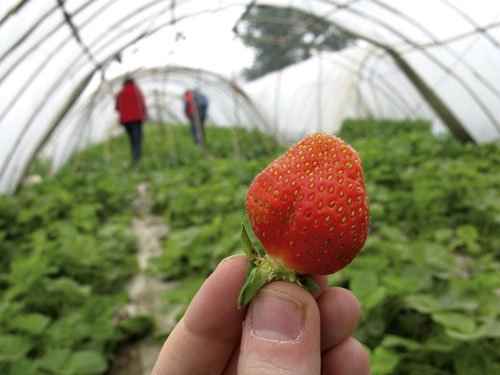 Changping District
The largest strawberry-producing region, Changping District, has its own website (www.changpingcaomeiwang.com) dedicated to strawberry producers. Though it's in Chinese only, it has a handy list of addresses and contact information for each farm in the area. Located close to Xiaotangshan, the area in and around Xingshou Village is the largest strawberry-growing region in Changping. There are many varieties of strawberries, the most popular being Queen Emperor (imported from Japan) and Hongyan (known for its juiciness). China Aviation Museum isn't far from here, so consider making a detour if you have kids who are into planes.  
Read the rest on our sister website beijingkids.
Photos: Cattriana (Flickr), Osamu Iwasaki

Visit the original source and full text: the Beijinger Blog