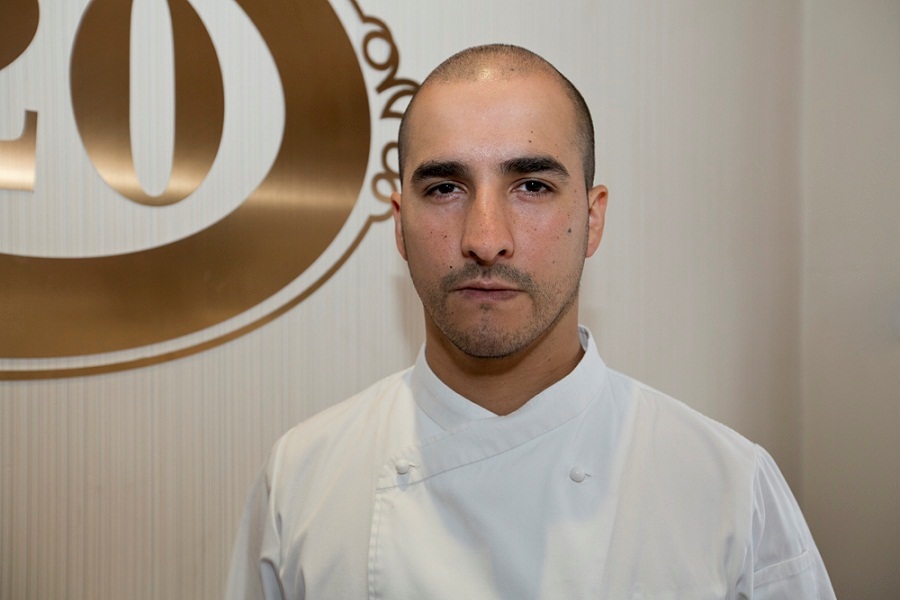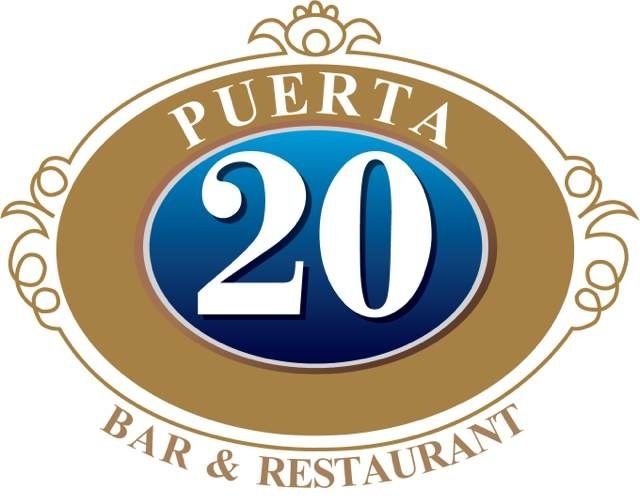 This post is sponsored by Puerta 20, a world-class Spanish restaurant located in the Worker's Stadium complex. 
Malcolm Gladwell's famous "10,000 hours" rule posits that it takes precisely this long to become world-class in any field. But every rule has exceptions – there are those who simply seem to have been born to succeed. Maiker Valdivia is one such talent. The Chilean-born chef grew up cooking for his friends and family and had no aspirations to become a professional chef until a chance encounter on a trip to Spain at the age of 20 changed his destiny.
"I just went because I wanted to see the world," he says, explaining how he got his first break in San Sebastian when one of his fellow players on a local football team offered him a job at the nearby restaurant. From those serendipitous beginnings, Chef Valdivia quickly excelled and went on to cook alongside Michelin star chefs before opening his own restaurants and coming to Beijing, where he is now Head Chef at Puerta 20, a world-class Spanish restaurant in the Worker's Stadium.
Today, Puerta 20 not only attracts a faithful crowd of Beijing's Spanish expats and local celebrities, but is also the bona fide home restaurant of the Beijing Guo'an football team, whose players and Bailen-born Gregorio Manzano, dine there on a daily basis (the restaurant is co-owned by renowned Chinese football veteran Shao Jiayi). We sat down with Chef Valdivia to find out more about how he went from a 20-year-old home-style cook to one of China's premier European chefs.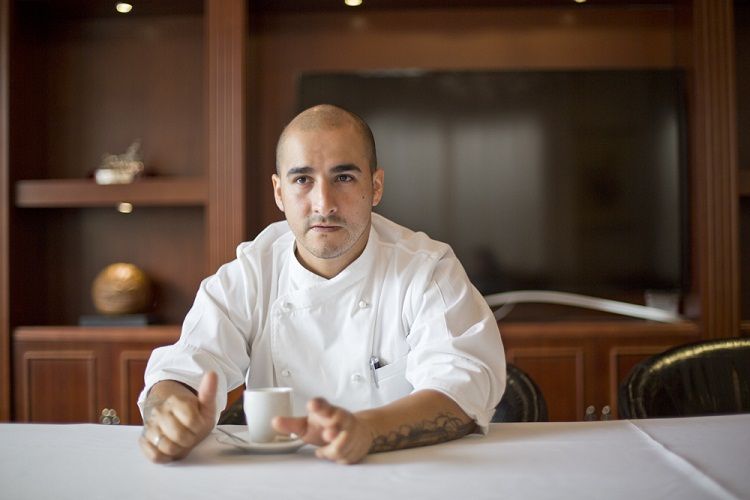 How old were you when you discovered your love of cooking?
When I was 12 my grandma would cook for me. She would teach me the steps of simple dishes. I'd learn to cook at home to take care of my brother and myself. I didn't think very much of it at the time, but it definitely helped. On my first day at the restaurant in San Sebastian, the boss asked me: "Maiker, you really never cooked in a restaurant before? You seem like you are a guy that has worked in a kitchen for two years." I knew the basic things in the kitchen, but more importantly I could also get the staff to work together, and follow me. It's very important to understand what it means to be the leader of a team when you work in a kitchen.
The restaurant's name was Mirador de Ulia, and my boss' name was Ruben Trincado. He is a very talented chef, and the best thing he did for me was let me work with the pastries. He'd tell me "If you want to learn something, try it here. If it doesn't work, put it in the rubbish and start again." He gave me the freedom to learn myself. I enjoyed working with pastry because you can play with recipes and ingredients, the temperatures and the times. This kind of job, for me, is interesting.
I did that for one year. After three years of working with him, I became his second chef, and not long after that we became a Michelin star restaurant. He promoted me because I could give the other cooks good direction – between doing pastries I'd also help them make dishes, and I'd lead them. I eventually opened my own restaurant, a small little place called Loreduna Berri in Fuenterrabia, a small village near the French border. I really enjoyed it, but after a while my old friends from Mirador de Ulia invited me to come to China and open a restaurant in Hefei, Anhui. It was a very good experience, and gave me what I needed to eventually come work in Beijing.
How has your cooking style changed since you moved to Beijing?
I try to take traditional Spanish food and cook it with new techniques. I came here wanting to experiment. But in China things can be difficult. The vegetables and poultry are sometimes not very high quality. And there are many kinds of fish that are impossible to find in China, like Atlantic codfish, for example. The codfish here comes from Alaska, so it's totally different. We try to cook with the same technique from Spain, but with different ingredients.
I readily agreed to come to China without anticipating things like the need to speak English and a little Chinese, and how you won't be able to find this and you won't be able to find that (laughs). So I've had to change my style. I like molecular gastronomy a lot, for instance, and have learned to cook in this way; but here in China it's more difficult to prepare this kind of food because it's difficult to prepare the foams and textures of molecular cuisine here in Beijing. Most people go to Spanish restaurants and think "jamon, paella … jamon, paella" – so I've had to cook more traditional foods as well.
[In any case] I try to make spectacular design for my dishes and make them beautiful. But, more importantly, I also try to keep the spirit of tradition and make some simple things feel very special. That's my signature: take the tradition, and make it work together with something more complex, so that you give something special to the customer.
Where else do you like to eat in Beijing?
I like Chinese food, very traditional Chinese food. I like how they cook eggplant and frog here. In the West we cook frog very differently, it's so light on flavor. But not here, it has so much Sichuan pepper, it tastes so much better. If the dish has Sichuan pepper, I'll eat it. I also enjoy Chinese deep fried tofu, it's like jello inside and crispy on the outside.
When I want a burger I go to Great Leap. They have great beer and I like the flavor of their beef — it's homemade, not frozen from the market. I also like to get steak at O'Steak. If I want good beef I'll go there – they know me and know not to make a mistake [laughs]. I like to take my son to places like this that are clean. He's not fussy, he'll eat Chinese food unless it's too spicy, then he'll say "no no," but otherwise he loves it.
What do you eat at home?
In my house we [are truly multi-cultural]. My wife is Russian, one of my boys was born in Spain and the other was born in China. My wife will cook us borscht – it's nice and homemade, not like in the restaurant. In the Ukraine they'll use beetroot to cook it while in Russia they use tomato, so everyone's borscht is different. But I'm sure my wife's is the best.
Have you learned to cook some of those favorite Chinese dishes?
On my holidays I cook Chinese food for my family. When I lived in Anhui there was a very old woman cooking for our staff. I studies how she cooked, and learned how to make pork belly with garlic for lunch. I can also make ma la fish, and my wife is always impressed. I can get everything I need at the local Wu Mart. I know some people who have left China because they don't like the food – back in Anhui my sous-chef and his girlfriend left just after four months – but I've found in Beijing it's much easier to live.
Although you're adapting to life here, there must be some restaurants and bars that you really miss back in Spain?
Yes, I really miss the tapas culture while living in Beijing. With tapas you can start at noon and finish at 11pm. You won't need dinner afterward. If I want to eat something here I usually have to go to Sanlitun, because it's the closest place with many restaurants to my home. But in Spain, in the building you live in there'll be a bar on the first floor with tapas, coffee and beer. It's everywhere, and it's very simple and easy.
My friends and I would go all day, stopping at one spot because they had good coffee, then another because their anchovies were so fresh, then another because they had the best croquettes. But only one place knew how to make the very best veal cheek.
And if you can make a good cheek, then I know you're a good cook. Your soul goes into that dish. This meat needs a lot of work. If you cook it too much all the flavor will be gone, so it lost something, and you need to think of things to add to bring back its flavor. Whenever I eat veal, I remember being impressed by that chef, I remember my friends, and I remember the beer and tapas.
Do a lot of dishes make you reminisce in this way?
Yes, I try to make that happen for my customers here, especially the Spanish ones. When you're far from home simple things like good food can make you very happy. If you eat something truly great, it's like the chef can touch your mind. It can remind you of eating something in the sunshine with your friends – maybe you can even cry a little because you feel something (laughs). It's very important for me to give something memorable to people. This is most important for my way of cooking.
Photos: Uni You, Sanfamedia.com (Flickr)

Visit the original source and full text: the Beijinger Blog