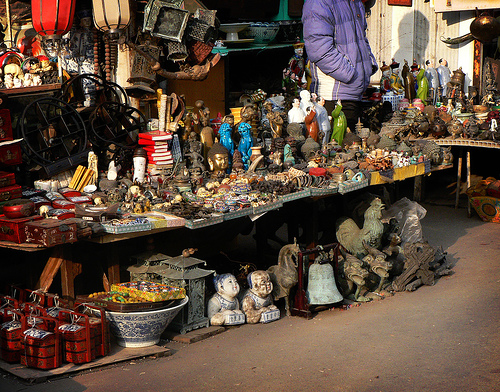 As Easter passes and spring is in the air, in a blink of an eye summer will be upon us and trips back home will require some gifts taking. Start early by heading to these markets to get something unique and old. The markets are spread out so take the time to enjoy the experience in each one of them to give a story when people unwrap the presents.
Panjiayuan Antique Market 潘家园旧货市场
If you have been in Beijing for a while, you will have heard about Panjiayuan Antique Market, no matter whether you are interested in antiques or not. The mother of all antique markets hosts over 3,000 dealers, offering all kinds of vintage finds and reproductions: Chinese calligraphy, painting, ivory carving, porcelain vases, ancient furniture and more. Every day, countless local and international visitors came here to look for treasures. But if you are not an artifact expert, the best thing to do is to go with an open mind and a limited budget. You will feel like you're walking around a museum.
Mon-Fri 8.30am-6pm, Sat-Sun 4.30am-6pm. West of Panjiayuan Qiao, Chaoyang District (6775 2405)
朝阳区潘家园桥西边
Liulichang 琉璃厂古文化街
This 750-meter long strip south of Hepingmen in Xuanwu District was once known as a Ming Dynasty (1368–1644) gathering point for poets and scholars. Today, this antique strip full of small shops on each side still embodies the personality of ancient Chinese culture and arts. If you have an interest in Chinese calligraphy, this is the best place to shop for wenfang sibao, the scholar's four treasures (writing brush, ink stick, ink slab and paper), which you can find in almost every shop.
Daily 10am-6pm (for most shops). Liulichang, Hepingmenwai, Xuanwu District
宣武区和平门外琉璃厂古文化街
Beijing Curio City 北京古玩城
This four-story antique mall organizes its different collections well and is conveniently located at the southeast corner of subway line 10. It is a good place to stock up on some smaller decorative pieces like teapots, cravings, Buddhist statues, paintings to ginger up your home décor for the holidays.
Daily 10am-6pm. 21 Dongsanhuan Nanlu, Chaoyang District (6774 7711)
朝阳区东三环南路21号
Find out more on our sister publication beijingkids here.
This article first appeared on our sister website beijingkids.
Photo: Ivan Walsh (Flickr)

Visit the original source and full text: the Beijinger Blog