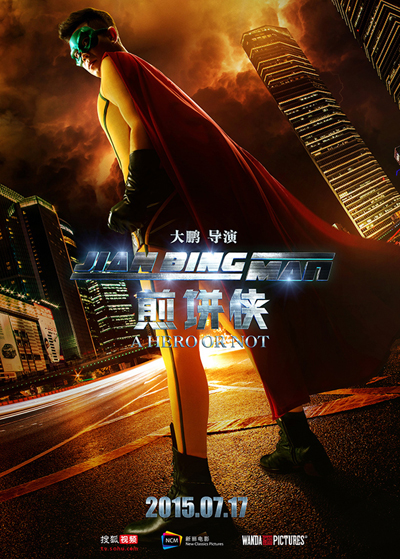 Superman can fly. Iron Man has his armored suit. Heck, even the Green Hornet has a gun. Now China has ... wait for it ... Jianbing Man with his, ummm, extra moist pancakes? (Sausage costs extra.)
China hasn't been very good at producing superheroes so far. Evidence: everywhere. But Chinese superheroes all tend to have very unique origins. The Monkey King, China's last big superhero and protagonist in Journey to the West, written, um, in the 16th century, was born from a magic stone.
And the newest one? A jianbing. No kidding. A breakfast wrap. Potentially born on Dirty Bar Street at 4am on a Sunday morning.
Jianbing Man's costume evokes visions of the favored breakfast food; the steamy, mustardy hues symbolizing the wrap, the green shadows the scallions. The red cloak? Chili sauce? Let's just hope the brown sauce stays out of this fight. Looking at this "superhero" with my stomach half-empty evokes nothing but saliva and a strange fantasy as to what he smells like.
Jianbing Man (Jianbing Xia 煎饼侠) ladles out onto the big screen nationwide on July 17. The story unfurls as a young man from a poor family earns his living selling jianbing and suddenly becomes a hero, presumably because he sells the best Chinese crepes in town. A star-studded lineup is set to back the movie, including Belgian action superstar Jean-Claude Van Damme and a few of actors from director Dong Chengpeng's previous sitcom series Loser Man (Diao Si Nan Shi), which included Yue Yunpeng, Song Xiaobao and Shen He, aka Xiao Shenyang.
This is a franchise we can really fall in love with and riff on all day. How will this savory character fight? Cart of Justice? Youtiao sword? Baozi bombs? And what about his catchphrase? We're thinking a coarse, "Zai lai yi ge!"
Photos: gb.cri.cn, China Daily

Visit the original source and full text: the Beijinger Blog