Part of the new evolution of Sanlitun's Courtyard 4, Ink opened earlier in the fall. A small bistro (1/F), club (2/F) and lounge (3/F) comprise the three-floor venue, making it quite the marionette of a venue to manage. We took a look at Ink's second floor a few months back, but had yet to make it to the bistro.
Christian Hoffman of Yi House consulted for the kitchen, and he's done well. The menu is French-leaning and split into two sections – one meant for a casual bite sitting at the bar with a glass of wine, the other for sit-down dining (RMB 148 for two courses, RMB 178 for three courses).
Tartines (RMB 22-42) comprise this first genre of a meal. A Franco-rendition of that classic standard, the open face sandwich, the tartine offers possibilities: wild mushrooms with hazelnuts and a balsamic glaze (RMB 22), Gorgonzola with pear, walnuts and truffle honey (RMB 28), a soft egg on crispy pancetta (RMB 25). On one, a fatty slab of fried Gruyere and a grilled artichoke heart (RMB 42) are testament that a kitchen should not always follow the printed menu (which promised pancetta instead of the 'choke). On another, gravlax (RMB 38) is accented delicately with a single caper, a small ring of red onion, a sprig of dill and a section of lemon with shavings of its rind.
The sit-down menu is small and set, with a select number of dishes done well, but rotates every several months. Flavors are classic and satisfying: fennel with green apple, a seafood bouillabaisse, roast chicken atop carrots and a pool of creamy lemon-thyme sauce, grilled sirloin drizzled with green peppercorn sauce and bolstered by rosemary potatoes. An ordinary penne with eggplant is just that – ordinary – but the salmon, grilled and glistening, flakes off the fork tenderly and the lentils, half on their way to soup, are rich and buttery.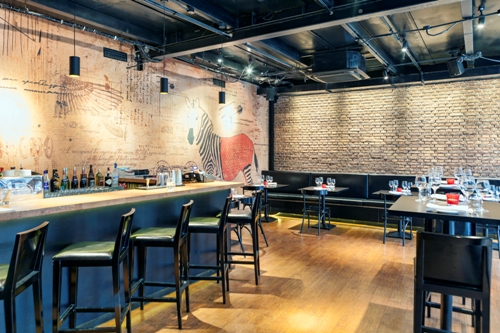 Ink
Daily noon-2pm, 6-11pm. Courtyard 4 (beside Salsa Caribe), Gongti Beilu, Chaoyang District (157 0122 3422)
朝阳区工体北路4号院
A version of this article appears in the March 2014 issue of the Beijinger:
Photo: Sui

Visit the original source and full text: the Beijinger Blog