China's Olympic Gold medalist and World Champion 110-meter hurdler Liu Xiang will announce his retirement next Tuesday at age 32, according to Titan Sports.
After years combating chronic inflammation in his right Achilles tendon, it's finally time for the national hero to bid farewell to his arduous but legendary professional career. There's nothing left to prove, and even if there were, it's unlikely Liu's body would let him do it anyway..
Born and raised in Shanghai, Liu first gained public attention in 2001 after winning his event the East Asian Games in Osaka and Universiade in Beijing. The following year, he broke the Asian record time at the age of 19, finishing the event in 13.12 seconds.
Although he was not considered a favorite for the 2004 Athens Olympics, Liu won in 12.91 seconds, breaking the Olympic record and tying the world record. The boy from China almost flew over the hurdles and left runner-up Terrence Trammel by nearly three-tenths of a second. His gold medal made him the first Chinese athlete ever to win an Olympic gold medal in men's track and field event.
Two years later, he broke the then world record at the Super Grand Prix in Lausanne with a time of 12.88 seconds.
Nevertheless, his career afterwards became a series of what-ifs due to continuous Achilles tendon injuries.
He lined up at both the 2008 and 2012 Olympic Games but pulled out due to injury both times. In 2008 at Beijing's National Stadium, he lined up but then walked off injured after a false start by another runner, leaving the whole National Stadium in stunned silence and then tears.
"China's greatest hope had been dashed," wrote The New York Times.
In 2012 at London, he pulled his Archilles tendon while taking off and attempting to clear the first hurdle, but managed to hop the full 110 meters in pain, with the help by a few of his fellow competitors, and kissed the last hurdle before he left the track.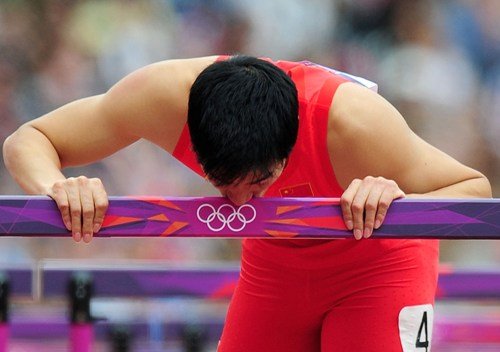 He has never lined up in a race since then, despite huge pressure for him to continue, from his sponsors, event organizers and the Sports Bureau.
Unlike China's other athletic icons, namely former tennis champion Li Na and former NBA basketball star Yao Ming, Liu is known for his low-profile lifestyle, albeit as one of the most popular athletes in China. He was on Time magazine Asian edition's cover of the 2008 Olympic games, titled "Liu Xiang and 99 More Athlets to Watch."
Liu married actress Ge Tian in September in 2014, after officially dating her for two years.
With Liu's retirement, China enters a new era without its first generation of modern athletic champions. Li retired in 2014 after being plagued by a knee injury, and Yao wrapped up his playing career in 2011.
Photos: theapricity.com, scmp.com, theprovince.com

Visit the original source and full text: the Beijinger Blog