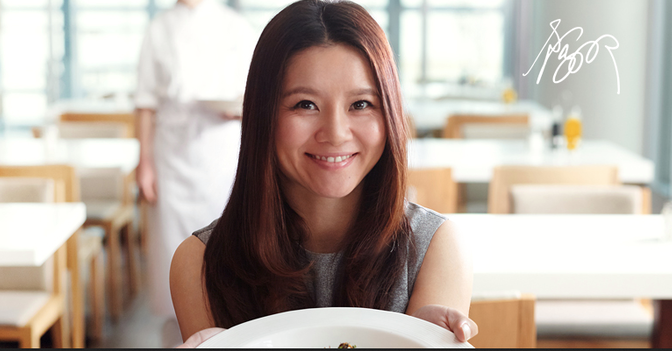 Two names associated with a healthy lifestyle, recently retired tennis star Li Na and Shanghai-based restaurant chain Element Fresh, are serving up a new spring/summer menu called the Element Fresh & Li Na Vitality Series.
"I am more than an athlete, with many roles to play. I love the challenges, the diversity of my life and I love fresh food, the source of vitality!" Li said of her new turn in the kitchen.
The first three entrees in this series are: Blue Cheese, Chicken and Apple Salad (an American-style chopped salad featuring grilled chicken breast, blue cheese, California raisins, apple, crispy bacon, chopped lettuce, and honey-mustard dressing); Warm Spinach Salad and Salmon Fillet (flash sautéed fresh spinach, carrots, edamame, green lentils, and yellow bell peppers with seared salmon, finished with grilled cucumber flowers and lemon-tarragon dressing); and Fire and Ice Tuna (spicy ahi tuna grilled medium rare, ice greens with cucumber, jicama, and wasabi vinaigrette, and kombu potato salad with shiso and sesame).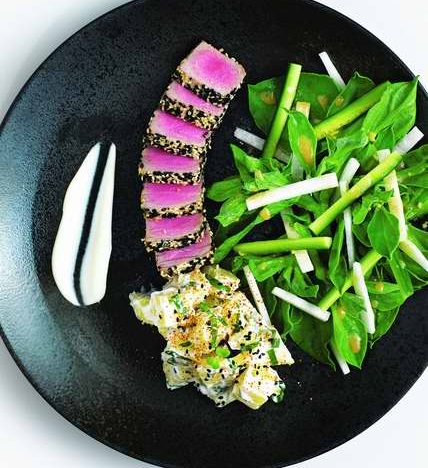 Li, who is expecting her first child this summer, is also touting two fresh shakes: the Red Dragon (a combination of orange and red dragon fruit); and the Avocado-Coconut Smoothie (fresh avocado, coconut milk, bananas, spinach).
Wait, avocado, coconut milk, and spinach?
We stopped by Element Fresh in Tai Koo Li Thursday night to taste that last item. The mix of coconut and avocado made it probably the creamiest smoothie we've ever had. While the green color speaks of avocado and spinach, the taste is all coconut. It's a pretty nice addition for the warm-weather menu.
The Element Fresh & Li Na Vitality Series menu items are incorporated into the Element Fresh Spring/Summer 2015 menu, look for the distinctive red logo to try them.
Photos courtesy of Element Fresh

Visit the original source and full text: the Beijinger Blog