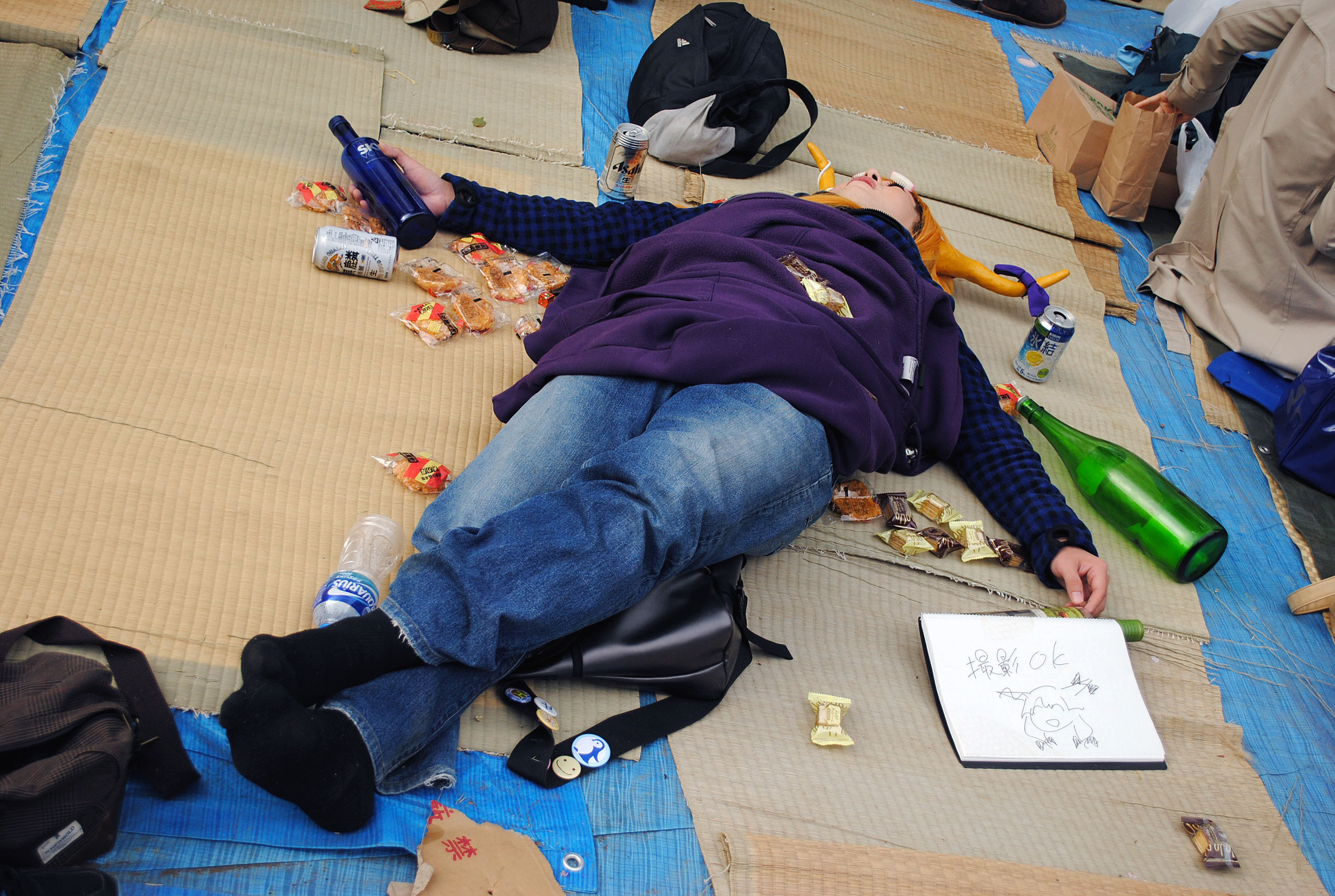 Baijiu drunk is a totally different type of drunk, as foreigners not accustomed to drinking it know very well. In the spirit of the long weekend, and in the spirit of listicles, we thought we should showcast the amazing things we say following a typical (can we say accidental?) baijiu expedition.
We say expedition because, following consultation with the entire editorial team, it seems like drinking Erguotou just makes people want to do things and go places, like this man who is clearly having the time of his life and trying hard to get somewhere even more fun.
1. "Is the baozi shop open yet? F*cking b*stards, it's 4am, where is my breakfast!"
2. "Let's go swimming in Houhai! There haven't been ice chunks in the lake for at least two weeks. We can just leave our clothes in a pile next to this old man doing his morning exercises. Wait, is that the sun?"
3. "Do you think there are any trains to Tianjin running right now? I still haven't been. Which bloody train station do they go from?!"
4. "We can definitely fit three people on this bicycle and ride around the Dongsishitiao roundabout. There's a 7/11 there too, maybe we can get another bottle!"
5. "Which chuan'r joint is still open? I'm just about drunk enough to eat some chicken feet, take selfies with them, post them on Instagram after 15 minutes of fiddling with my VPN, and boast about this one evening for the rest of my time in China."
6. "Let's have another bottle! It actually tastes good when mixed with orange juice/anything with a shit ton of sugar in it/when your tastebuds have been burned off."
7. "Shifu! Gongti Xilu!" followed by "wait, Mix and/or Vics will be open at 3am right? It is a Monday/Tuesday/Wednesday/Thursday night."
8. "I need to sober up. Pass me the Tsingtao," *downs Yanjing* "God, I really hate when you want a chilly Tsingtao and all they have is lukewarm Yanjing."
9. "We really need to see more of Beijing, why don't we go to hiking at Mutianyu tomorrow or something? Let's meet at 9? I'll definitely be up by then, we can grab some breakfast and get there before it gets too crowded."
10. "We really shouldn't have drunk that sixth bottle of Erguotou. I feel like China has pissed in my mouth. Never again!"
Don't even get us started on the baijiu burps the next morning ... Happy weekend everyone!
Photo: ohmyomiyage

Visit the original source and full text: the Beijinger Blog