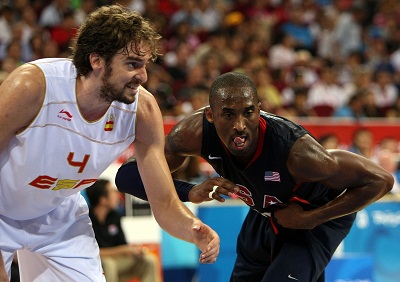 The MasterCard Center, formerly known as the Wukesong Arena, turned 10 on Sunday, with its groundbreaking having taken place on March 29, 2005. It served as the home of basketball during the 2008 Olympic Games, and since then has hosted a number of concerts and other sporting events. There's a statue of Stephon Marbury outside – and that was erected even before he helped the Beijing Ducks, who play their post-season ball there, win their third championship there earlier this month. Here are 10, ahem, priceless moments from the MasterCard Center's first 10 years.
 
1. August 24, 2008 US vs. Spain Gold Medal Game
On the final day of the Beijing Olympics, the US downs Spain to win the gold medal for men's basketball, 118-107.
 
2. October 17, 2008 NBA Global Games: Golden State Warriors vs. Milwaukee Bucks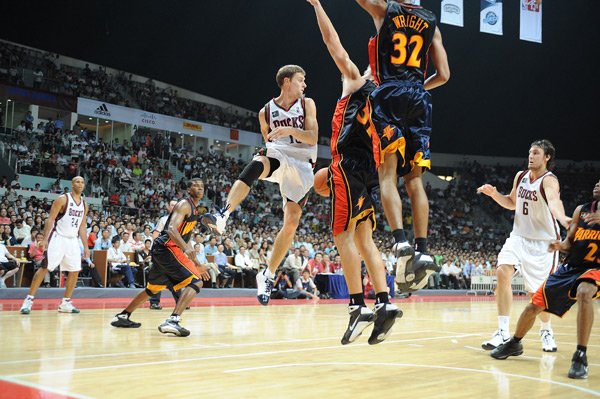 The Warriors beat the Bucks 109-108, as Bucks rookie Joe Alexander shows off his Mandarin skills (he lived in Beijing for a period).
 
3. October 11, 2009 NBA Global Games: Indiana Pacers vs. Denver Nuggets
Denver defeats Indiana as Carmelo Anthony scores 45.
 
4. October 23, 2009 Beyonce "I Am..." World Tour
There was a time when major concerts didn't necessarily pass us by. Fans who attended this show are still talking about it. Come back, Beyonce, come back! And bring Jay-Z with you!
 
5. March 12, 2011 The Eagles "Long Road Out of Eden" World Tour
The idea of playing in China would have been a joke when The Eagles first got together. Many years later, Don Henley, Joe Walsh, Glenn Frey, and Timothy B. Schmit alighted in Beijing for one night.
 
6. October 11, 2012 NBA Global Games Miami Heat vs. Los Angeles Clippers
Some guy who never went to college named Lebron came to Beijing. He did pretty well, scoring 20 points, and his team, Miami, beat the other team 94-80.
 
7. November 25, 2012 Elton John "40th Anniversary of the Rocket Man" Tour
The man who sold two percent of all the records in the world in 1972 showed up in Beijing 40 years later to sell some tickets and a few more albums. Sparkly.
 
8. December 8, 2013 Cat Power
Indie folker Cat Power (nee Chan Marshall) played the ThinkPad Space as part of the Modern Sky Festival 2013. Attendees will remember her riveting performance and the words, "I'm sorry." "I'm sorry." "I'm sorry."
 
9. March 2, 2014 Avril Lavigne "Avril Lavigne On Tour"
Peking's favorite pop-punker Avril Lavigne made her second stop at the MasterCard Center. (Photo is from her 2012 show there).
 
10. October 15, 2014 NBA Global Games Brooklyn Nets vs. Sacramento Kings
The Nets beat the Kings in overtime, 129-117.
Photos: Rio 2016, NBA, People.cn, Sina.com, Daily Telegraph, Steven Schwankert

Visit the original source and full text: the Beijinger Blog