A Closer Look reviews the winners from our 12th Annual Reader Restaurant Awards, which were announced March 16. With the weather finally warning up, we turn to the winners of the Best Wings category.
Whether they're doused in barbecue sauce, slathered in spices, or dunked in blue cheese, few snacks make foodies flock to bars and restaurants like chicken wings. And while more and more Beijing venues are offering this longtime favorite, three establishments soared above the rest in our 2015 reader poll. Below, see the top purveyors of this treat as voted by you.
 
Best: Blue Frog
This popular Shanghai chain may be most famed for its burgers, but in 2015 our readers crowned Blue Frog the king of chicken wings. The frog's Spicy Chicken Wings come with sides of blue cheese and chili sauces and celery sticks. These morsels are best chowed down during happy hour, which runs every day from 4-8pm, when all beers, cocktails, house wines and soft drinks are buy one, get one free.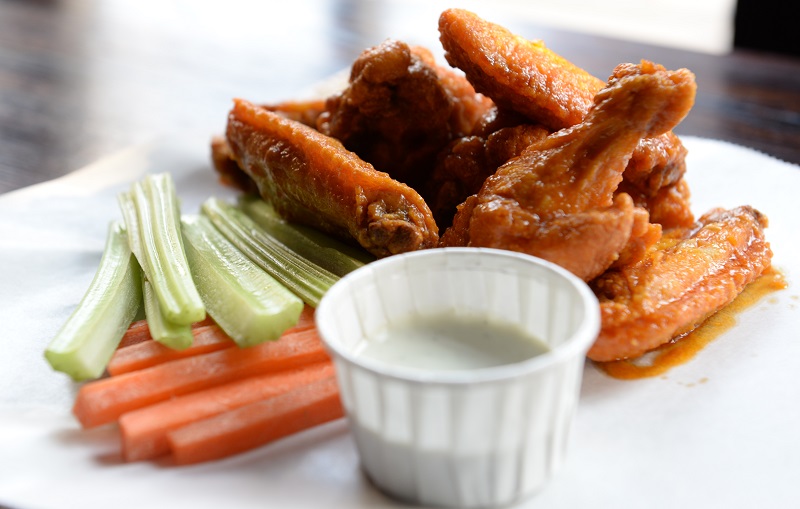 Outstanding: Great Leap Brewing
After a strong showing in the Beijinger's 2014 Burger Cup and the opening of a new pizzeria/brewpub earlier this year, Great Leap's esteem as not only a brewery but also as a restaurant just keeps growing. Both GLB #12 (Xiaoyun Lu) and GLB #45 (the new one) serve wings, but the sauces are different. #45 serves buffalo wings tossed with the restaurant's homemade sauce and served with blue cheese sauce, carrots and celery sticks. A large serving of 16 wings goes for RMB 100, while a smaller order of eight costs RMB 55. Meanwhile, at their #12 Brewpub, GLB sells its original wings, which are tossed with honey-ginger vinaigrette, served with garlic aioli, and priced at RMB 50 for a basket of eight. Patrons at GLB #12 can take advantage of the brewpub restaurant's weekday "telecommuting" deal, in which you can score a beer for RMB 25 with the purchase of appetizer from 2-5pm.
 
Outstanding: Home Plate Bar-B-Que
Beijing's premium destination for comforting southern barbecue has proven that it can not only slow cook a mean helping of beef brisket or pulled pork, but also toss a dandy basketful of chicken wings. Their barbecue wings are served with ranch dressing, while their buffalo wings are served with with blue cheese dressing. The sides for both options are also rounded out with celery and carrot sticks. Each basket has 6 wings and is priced at RMB 48. Patrons typically like to chow down on these wings during the Sanlitun branch's happy hour, held every day (including weekends) from 11am-7pm, when glasses of house wine and well drinks (ie. rum and coke, gin and tonic, etc.) are half price, RMB 10 is knocked off cocktails and draft beer, and buckets of beer (containing five PBR tall boys, Coors Gold, Tiger and more) are sold for RMB 100.
Hungry for more? Follow all of our 2015 Reader Restaurant Awards coverage here.
Photos courtesy of the venues

Visit the original source and full text: the Beijinger Blog