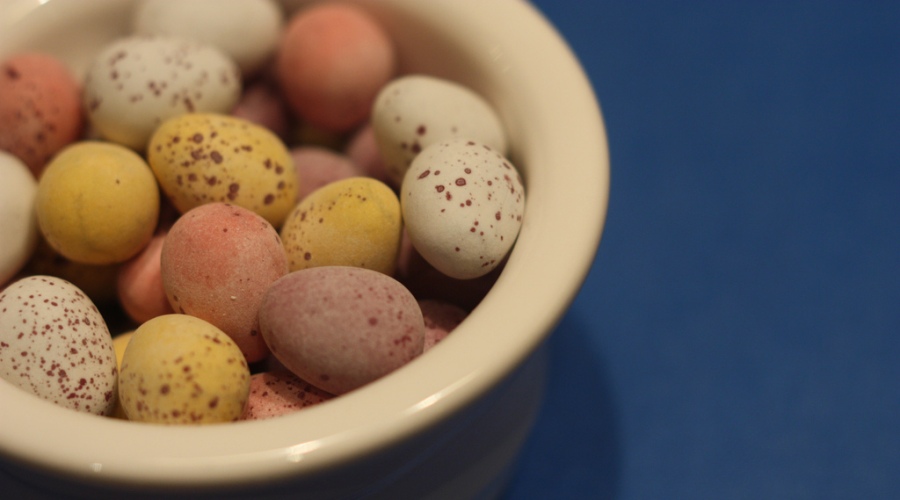 Easter weekend (April 4-5) coincides with Qing Ming festival this year, giving most office workers a day off on Monday April 6. Make the most of it at one of the many Easter brunches and parties happening all over town.
Easter Panty Hunt
XIAN brings us an egg hunt that's definitely NOT for children. XIAN's Easter Bunnies have hidden their panties all over the bar. Anyone who finds a pair will receive a complimentary glass of Champagne from them. Don't forget to check on top of the lamps and under the pillows. Free. April 4, 9pm. XIAN
Easter Lunch at Chapter
An Easter-inspired full buffet with special desserts, plus egg painting, egg hunts and family photos. RMB 198. 11.30am-2.30pm. Chapter
Easter Sunday at Zarah
Something for the kids and the adults at Zarah, with a kindergarten teacher leading kids activities upstairs and a full buffet brunch downstairs, including free-flowing wines and Prosecco. RMB 248 (adults), RMB 50 (kids). 9am-5pm. Zarah
Easter Sunday morning Yoga at The Brickyard
Get in touch with your spiritual self with guidance from The Brickyard's professional instructor. Yoga mats and fresh towels supplied. Price includes the Brickyard Breakfast Buffet served from 7.30-11.00am and use of a changing room in the Spa. RMB 288 (free for Brickyard guests). 9-10.30am. The Brickyard
Easter Celebration at Kempinski Hotel Beijing
Kranzler's usually decadent brunch is upgraded with Easter treats and an Easter egg hunt in the garden. RMB 498 (including free-flow wine and beer). 11.30am. Kranzler's
Asia Bistro Egg-Citing Easter Brunch
Sample easter classics like roasted salmon and hot cross buns at Asia Bistro's Easter brunch eggstravaganza. RMB 498. 11.30am. Asia Bistro
Aroma Easter Bunny Brunch
In addition to egg painting, egg hunting and bunny petting zoo on the terrace, Aroma has teamed up with Golden Wings Charity School for a "Design an Egg" charity auction, the proceeds of which will go to benefit autistic children. RMB 598. 11.30am. Aroma
Hunting for a Sweet Easter at Four Seasons Beijing
Traditional roast lamb, roast pork, eggs benedict, carrot cake, egg desserts, and more seasonal Easter treats await at Four Seasons' special Easter brunch. RMB 548. Noon. Opus Lounge
Dream Land Easter Brunch at VIC
VIC is one of our favorite brunch venues on any given Sunday, thanks to their outstanding French-inspired spread and excellent dessert selection. For Easter they're turning it up a notch with eggs hunts, a clown show, and a painting corner for the kids. from RMB 420. Noon. VIC 
Easter Day Brunch at The St. Regis Beijing
Cross your fingers for good weather so you can enjoy Easter brunch in the St. Regis' sunny Garden Court. Either way, they'll be plenty of seafood and free-flow Veuve Cliquot to indulge in. RMB 588. 11.30am. Garden Court
Easter Egg Hunt and Buffet Lunch
Enjoy seasonal favorites like Alaskan king crab, roast prime rib, and hot cross buns at the Ritz-Carlton Financial Street's sunny first floor buffet restaurant. RMB 498. 11.30am. Ritz-Carlton Beijing Financial Street
Easter Sunday Brunch at Sheraton Beijing Dongcheng
Just a short hop up to the North Third Ring Road for Gulou and Andingmen dwellers, the Sheraton Beijing Dongcheng's easter brunch promises grilled Boston lobster, fresh oysters and free-flow bubbly. RMB 488. 11.30am. Sheraton Beijing Dongcheng
Easter Brunch at Capital M
Capital M is a great destination for brunch whatever time of year, but the weather around Easter should make it a special treat. They'll be supplementing their usual menu of modern European cuisine with Easter treats like hot cross buns. RMB 248 (two courses plus a cocktail and coffee or tea). 11.30am. Capital M
Easter Brunch at Factory (by Salt)
Head up to 798 for brunch in Factory's refined-yet-relaxed space. Expect modern dishes such as goat's cheese mousse, alongside seasonal favorites like roast rack of lamb. Add a couple of hours of free-flow bubbly for just RMB 150. RMB 200 (two courses). 11am. Factory (by Salt)
Hop to Kerry's Easter Sunday Brunch
Kerry's Kitchen is a paradise for those looking to keep the kids entertained while they indulge in a few hours of free-flow seafood and bubbles. On-site activities include the Adventure Zone playzone, face painting and egg hunts. RMB 538 (includes free-flow champagne, wine, beer and Easter cocktails). 11.30am. Kerry's Kitchen
Read the full listings on our Events section here.
More stories by this author here.
Email: [email protected]
Instagram: @gongbaobeijing
Twitter: @gongbaobeijing
Weibo: @宫保北京
Photo: scribbletaylor (Flickr)

Visit the original source and full text: the Beijinger Blog