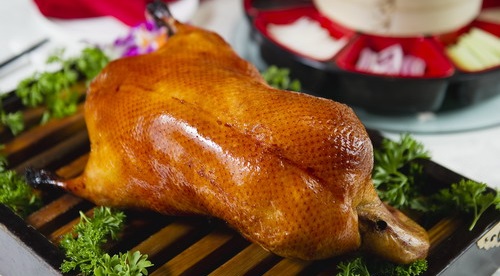 A Closer Look reviews the winners from our 2015 Reader Restaurant Awards, which were announced March 16. This time around we take a look at the winners of the Best Beijing Roast Duck category.
Ahh, roast duck. There's no doubt that this dish defines Beijing more than any other. And whether you're a tourist or a long-timer, you've likely indulged in this signature dish and you're not gonna stop any time soon.
Due to the prolfieration of duck choices across the city over time, we've expanded our reader poll to include fine dining and casual categories. Here are our readers' favorites for each:
Casual

Best: Bianyifang
The birds at Bianyifang sport some of the crispiest skin in town and are praised for their fat-to-meat ratio. The sauce is just the right combo of sweet and tart and the pancakes are paper thin and fresh. "It's just good – enough said" (hao chi bu duo shuo) – as a review from Dianping.com concisely sums it up. Bianyifang has had a few years to get it right – its history can be traced back to 1416. The restaurant offers a plethora of duck dishes in addition to the main attraction: their signature huoliao yaxin (duck hearts stir-fried with red wine) and jiemo yazhang (duck feet with mustard sauce) make great side dishes. A duck at Bianyifang is priced at RMB 198, and most of the 17 locations around Beijing are clean and spacious and provide good service. You won't be distracted by epic decor or loud floor shows; at Bianyifang, all the attention is on the duck, and it will not let you down.
 

Outstanding: Da Ya Li
Da Ya Li is a popular brand among locals. It's one of the largest chain restaurants in Beijing (Dianping lists 42 locations in the city) and has consistent food quality and above average service. The Gold Roast Duck is RMB 128 with condiments, and their signature Kung Pao Chicken is only RMB 20. It's undoubtedly one of best value ducks in Beijing. Their dining rooms are typically large and can be loud at peak times, though the renao atmosphere makes for an authentic Beijing dining experience. The duck itself is well received though some people feel it's a little too oily. It may not be the best choice to impress a date or out-of-town friends, but those who have been living here for a while come here and feed their duck craving on a budget.
 

Outstanding: Jing Zun
This clean, reliable and affordable duck brand makes our list despite having only a handful of locations in Beijing. While it doesn't have the towering name or century-plus history of a Bianyifang of Quanjude, its a utilitarian place where you can get what you want at a reasonable price: their ducks go for between RMB 98 and RMB 158, based on the location. The ducks are juicy but not oily, and diners report that the ducks here are plump enough to feed five or six. It's also a great place to go for other northern family-style cuisine, such as dry fried green beans (ganbian sijidou 干煸四季豆), stir-fried eggplant with soy sauce (hongshao qiezi 红烧茄子), Kung Pao Chicken and dumplings at bargain prices. The décor tends to be decent, cozy, if not stylish.
 

Outstanding: Xihe Yayuan
With 11 locations in Beijing, the state-of-the-art Xihe Yayuan combines traditional architecture with updates to the traditional Beijing Duck formula. The place is renowned for its specialty duck sauces, which include mustard, garlic, and blueberry paste in addition to the traditional sweet bean sauce. Their signature blueberry duck wraps offers a showy culinary mix of Chinese and Western styles. Besides the duck, Xihe Yayuan serves a variety of food from different regions of China. Its RMB 268 per duck (condiments included) puts it slightly cheaper than Da Dong and Quanjude and a must-go when you are tired of the traditional dressings.
 
Fine Dining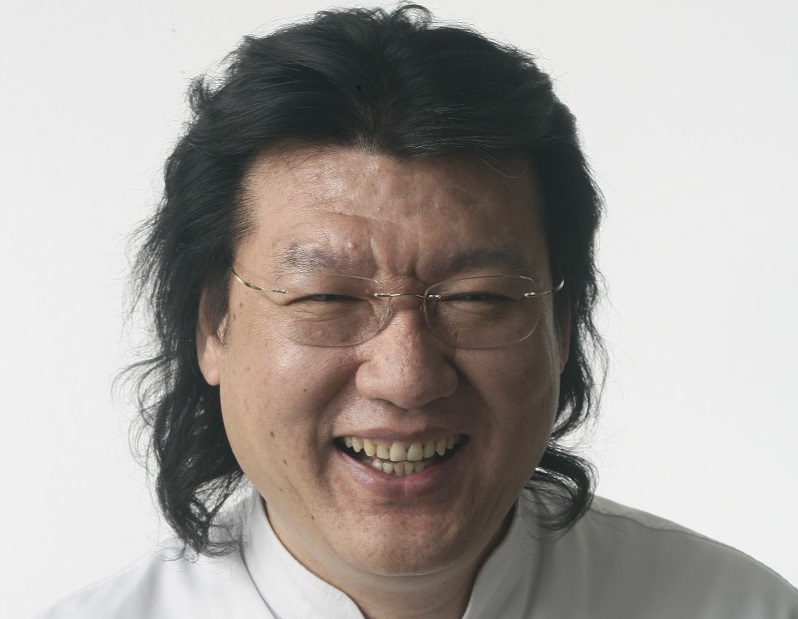 Best: Da Dong
Founded by charismatic and creative chef Dong Zhenxiang (known as Da Dong due to his tall stature), the state-of-the-art Dadong Roast Duck has remained on top of our readers' poll for years. Da Dong's ducks are leaner than those of other duck joints and are priced at RMB 268 (plus RMB 12 for each set of condiments), but they are extraordinary. The lean duck meat is chewy and juicy, the skins are pleasantly crispy, and the combination makes every bite perfect. What makes Da Dong stand-out beyond the duck is his contiunal pushing of the boundaries of Chinese fine dining. Since 2006, Da Dong has continously redefined Chinese fine dining with his establishments' spectacular décor, top quality service and groundbreaking cuisine. Its textbook-like menu is both a blessing and a curse, praised for its comprehensive presentaiton of dishes that expand well beyond simply duck but criticized for encyclopedic length.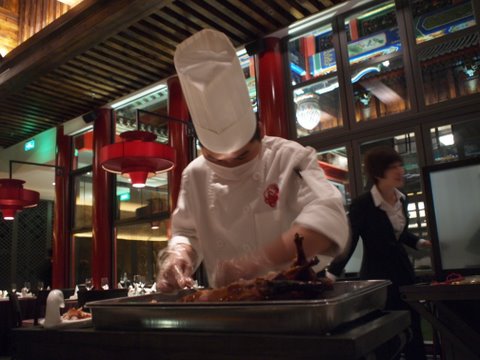 Outstanding: Duck de Chine
Located just behind Pacific Century Place in Sanlitun, Duck de Chine is part of the 1949 - The Hidden City dining and nightlife complex, and has a second location on Jinrong Jie. The restaurant's industrial chic décor creates a relaxed, classy ambience, while the menu incorporates both Chinese and French duck-roasting traditions. The quaint ambience, with gorgeous Chinese traditional lanterns hanging from the ceiling and red brick walls received unanimously positive comments from reviewers, and the place lives up to its royal presentation of food: each dish is beautiful and the duck is carved spectacularly. The ducks cost RMB 268 during dinner and RMB 188 at lunch (plus RMB 20 per set of condiments).
 

Outstanding: Quanjude
Since its establishment in 1864, Quanjude has become a name synonymous with roast duck. The time-honored duck eatery has a long and rich history and has served dignitaries from Fidel Castro to Richard Nixon. The chain prides itself on having plumper, juicier, oilier ducks. A perfect slice of Quanjude's duck consists of three layers: a crisp golden-brown skin on the top, a layer of juicy fat in the middle and a layer of duck meat in the bottom. Nobody challenges that they serve some of the finest ducks, but the problem is their expansion to more than two dozen locations throughout Beijing has resulted in uneven service quality, and their popularity has seen their duck prices rise to RMB 298 a pop. Because it's big with tourists, servers tend to have some English skills and experience explaining the whole duck rigamarole to first-timers. It remains a good place for taking visitors and special occasions, but pick and choose locations wisely.
Images: the Beijinger, Wikipedia

Visit the original source and full text: the Beijinger Blog