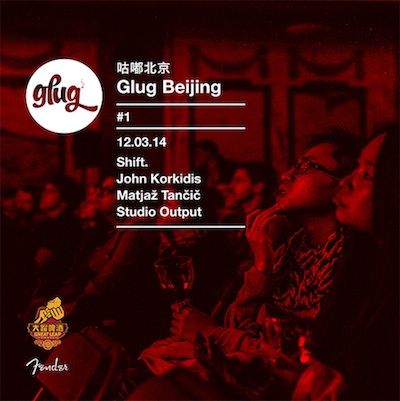 Glug, an international series featuring lectures form the world's top creatives, will share valuable info on their methods and experiences in their artistic fields while trying to promote informal networking among local creatives. Based out of London, it is quickly growing and can now be found in select cities around the world.
This session of Glug will feature four speakers. They include: Shift, a multi-disciplinary brand strategy and design firm specializing in emerging markets; John Korkidis, a multi-faceted creative from New York who has been living and working in Beijing for the past eight years; Matjaž Tančič, a Slovenian photographer with over 24 solo exhibitions under his belt and has been featured in Vogue, Playboy, and Marie Claire; and finally Studio Output, a creative agency with offices in the UK and Beijing, which will take you through the latest trends on the web and how to use these constantly evolving technologies to benefit your own projects..
Go here to RSVP and let the creative juices flow from this inspiring lecture. Oh yeah, there will also be tons of free beer from Great Leap Brewery. Get that creative ass down to the Fender Guitar Office at the Shenku Compound, near Ritan Park. Starts at 7pm.
As well, China bloggers are rising up as the supreme source for news and commentary about all of the important happenings that flood our feeds and inform our perspectives of living abroad. Go check out this interesting event, associated with this year's Bookworm Literary Festival. A handful of Beijing's brightest bloggers, including Anthony Tao from Beijing Cream and Mia Li from Sinosphere, will be giving an open discussion on a variety of topics related to the ins and outs of blogging in China. Whether it be current affairs, quirky happenings, political drama, or entertainment, there is never a shortage of bloggable content to join in on the fun. 
Here are some more great events this week:
Photo:.glugevents.com

Visit the original source and full text: the Beijinger Blog