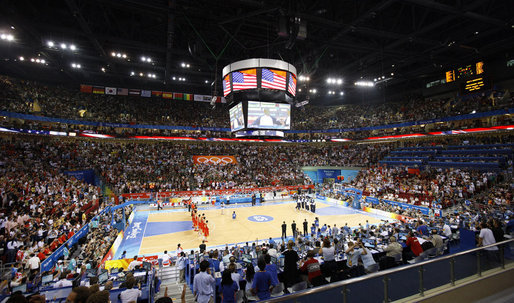 Our fair city of Beijing has named one of the top 10 sports cities in the world outside the US by Bleacher Report. Before you laugh, let's take a closer look.
Most of the cities in the Top 10 have hosted at least one Summer Olympic Games or World Cup, with the exception of Toronto, home of the legendary Toronto Maple Leafs (NHL), Raptors (NBA) and Blue Jays (MLB), which means a legacy of sporting venues -- in Beijing's case, stadiums like the Birds' Nest and the Water Cube. Currently, Beijing is bidding for the 2022 Winter Olympics (the IOC is in town this week), and if successful, we will become the first city ever to host both the Summer and Winter Olympics.
Other regular events held in Beijing include the IAAF Gold Beijing Marathon (annually since 1981), China Open of Tennis (1993-97 and 2004-) and WPBSA China Open for Snooker (since 2005). And in this August, the most elite track and field event, the 2015 IAAF World Championship in Athletics, will also be held in Beijing. So stop drinking that bottle of Yanjing and complaining that there's nothing to do. Mark the dates of those events on your calendar, start running, and book your tickets.
Beijing is also the home of two prestigious sports franchises in China: the Beijing Ducks and Beijing Guo'an. Both have a rich franchise culture and are challengers for the title for most of the seasons. Both have won at least one national championship, Guoan in 2009 and the Ducks in 2012, 2014 and 2015. Remaining on feet and chanting restlessly in Beijing's thick haze of pollution, Beijing die-hard fans take the Workers' Stadium as the last hutong, the last place where their heart and soul can rest.
And you probably have never heard that our city also has a professional women's basketball team which is the Beijing Great Wall, a professional women's soccer team, Beijing Chengjian, two professional volleyball teams, Beijing BAW (men and women), and a prefessional baseball team, the current national champions the Beijing Tigers. 
Our city is also where Beijing Sports University is located, one of the best sports schools in the country. And finally, all you need do is to peruse one of the city parks to see that the city's nuts for recreational events as well. Dancing grannies with heavy coats thrown over their nightgowns prance in sub-zero temperatures; runners donning facemasks sprint their way through the haze.
For the record, here's Bleacherreport's Top 10:
1. Barcelona
2. London
3. Tokyo
4. Melbourne
5. Beijing
6. Berlin
7. Rio
8. Manchester
9. Toronto
10. Sydney
Photo: Wikipedia

Visit the original source and full text: the Beijinger Blog