On arrival in Beijing, it quickly becomes apparent that almost everyone with the means to has an ayi. For some, the concept can be difficult to adjust to; the idea of having a stranger carry out the tedious household chores you are perfectly capable of performing yourself doesn't always rest easy. For others, the transition to paying a reasonable wage for a clean home is a straightforward financial transaction. Whether employing an ayi comes easily to you or not, you will probably find it a blessing; a tidy home and an extra caretaker for your kids is a welcome relief. Read on to view the results of our sister magazine's beijingkids-sponsored 2014 Beijing Ayi Survey, which provides community-sourced information on salary ranges, holiday benefits, working hours, hongbao, language skills, and more.
Introduction to the Survey
Now in its sixth year, the Beijing Ayi Survey was started by an Tobal Loyola (full disclosure: he now works at True Run Media, beijingkids' and the Beijinger's parent company). After asking around about ayi salaries and getting a variety of responses, he realized the need for a community resource to provide a basis for comparison. The 2014 Beijing Ayi Survey originally ran in June and July of last year on the beijingkids website and Beijing Cafe. This is the first time that results are appearing in print.
Section 1: Respondent Details (click each picture to enlarge)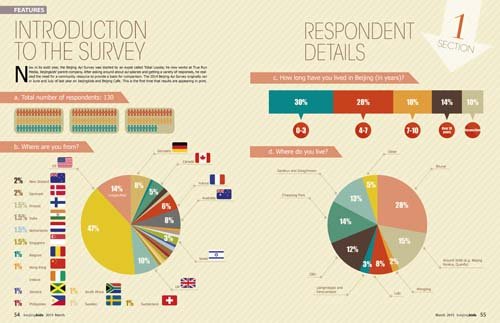 Section 2: Working Hours
To access the full results of the survey and see how the results compare to your experience of ayis in Beijing, surf on over to the original article at beijing-kids.com.
Photo: Dave PiXSTUDIO, infographics by Micky Pan

Visit the original source and full text: the Beijinger Blog