A Closer Look reviews the winners from our 2015 Reader Restaurant Awards, which were announced March 16.
This year we split Restaurant of the Year into three distinct categories: Chinese Restaurants; Non-Chinese Fine Dining Restaurants; and Casual Non-Chinese Restaurants. Today we take a closer look at your top choices for Fine Dining in Beijing. Stay tuned over the next few weeks here as we delve into all the winning categories.
Our readers have spoken and that stalwart of white table cloths and excellent service, Temple Restaurant Beijing, has once again been named Restaurant of the Year in the Fine Dining category.
Not content to rest on their laurels (or their excellent food, or their outstanding service), TRB invited a number of outstanding international chefs for guest appearances over the past 12 months, further raising their game.
We were particularly impressed by the food of visiting Belgian chef Olly Ceulenaere and we hope TRB keeps running programs like this to keep things fresh.
On a side note, I am also a huge fan of their online wine and spirits store trb-wine.com, which stocks a good range of harder-to-find wine, including a few from up and coming Chinese producers like Kanaan and Chateau Nine Peaks.
Frankly, I am always a little surprised that the same people that voted TRB as fine dining Restaurant of the Year would also vote for Annie's as casual Restaurant of the Year, but I guess that just shows the diversity of the Beijing dining scene or at least the flexibility of your tastebuds.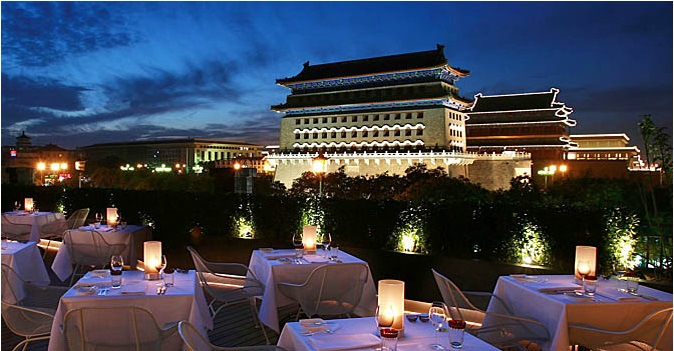 Coming in a close second is Capital M, whose outdoor terrace with its unbeatable view of Qianmen is by far and away our favorite place for a spring-summer alfresco celebration.
The food at Capital M is perhaps not as innovative as other places around town, but it's been a consistent standby since it expanded beyond its Shanghai roots and set up shop in Beijing. They earn kudos for combining European cuisine with both local (such as liberal use of duck and of local produce in Beijing) and far-flung (with a Middle Eastern bent) influences. The slow roasted pork is magnificient as is the salt-encased leg of lamb, while the desserts, especially their signature pavlova, make for a fabulous finish. Add the gorgeous setting (interior and exterior) and gracious service, and Capital M rises above its contenders.
Lastly, and proving that French cuisine still has the edge when it comes to fine dining, is Brasserie FLO. FLO celebrated their 15th anniversary in China last year and they continue to serve some of the best French food in town, buoyed by the use of fantastic raw ingredients.
The restaurant is all about the classics – think piled-high seafood platters, escargots dripping with Isigny Ste Mere garlic butter, or a perfectly executed steak tartare. It also remains one of the best places in town to eat oysters, as demonstrated by a visit from oyster ambassador Marcel Lesoille last year.
More stories by this author here.
Email: [email protected]
Instagram: @gongbaobeijing
Twitter: @gongbaobeijing
Weibo: @宫保北京
Hungry for more? Follow all of our 2015 Reader Restaurant Awards coverage here.
Photos courtesy of the venues

Visit the original source and full text: the Beijinger Blog