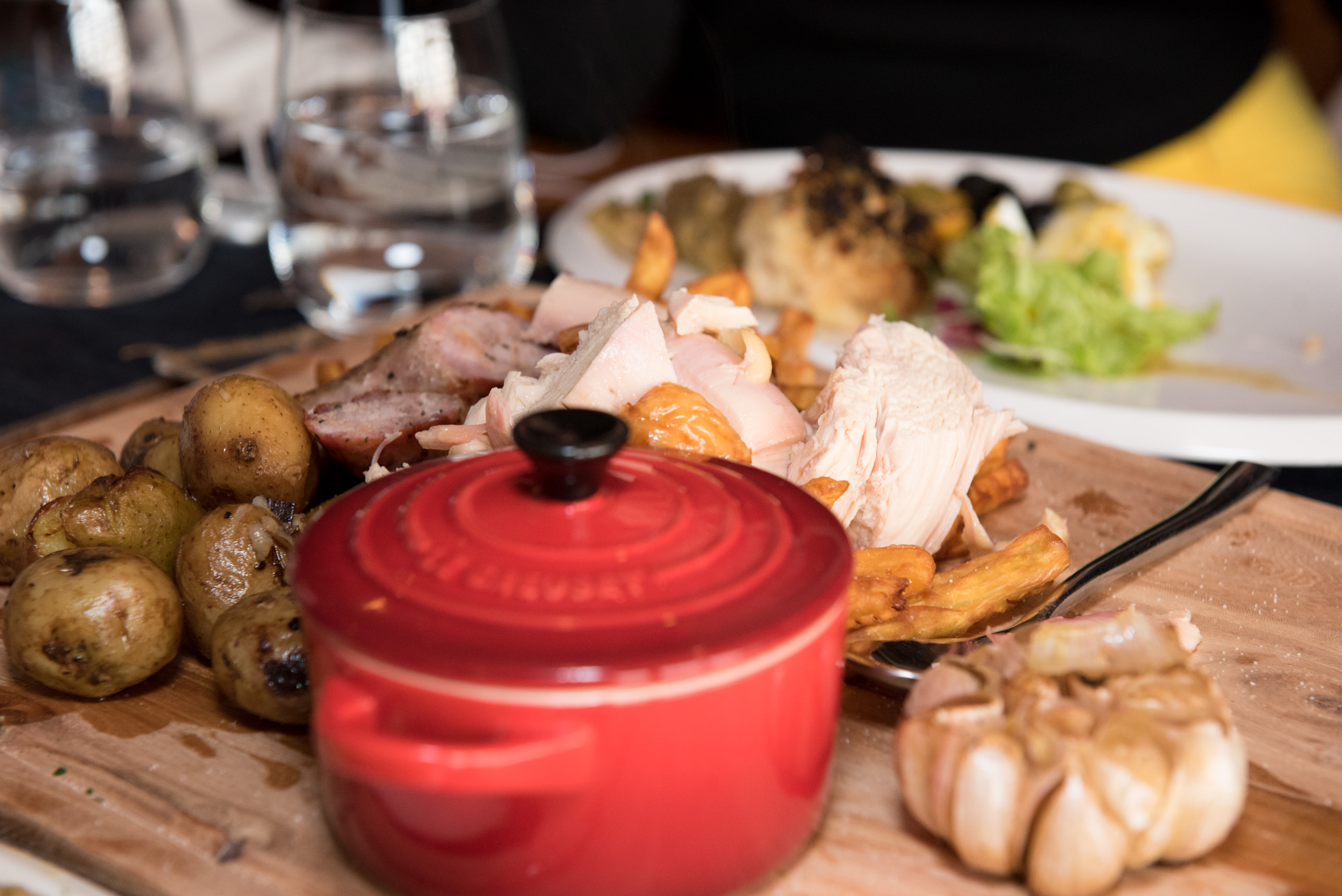 Two new brunches on the circuit this week, both with a positively carnivorous spin.
Firstly, Migas has started offering their popular brunch on Saturdays, this time with a Spanish steakhouse theme, called el Asador. start by helping yourself to the buffet stations, featuring a make-your-own salad bar and signature Catalan dishes like salt cod omelette and potato and leek soup. However, leave plenty of room for the meat, because that's what you'll really be there for. Chef Aitor Olabegoya and his team of chefs bring out a changing selection of meats roasted on their real charcoal oven, including anything from homemade sausages, to stuffed roast duck, to whole chickens, to Migas' signature dry-aged Black Angus d-rump. See more photos of the event here.
If you want to make it a weekend one-two of carnivorous dining, head over to 29 Grill in the Conrad Hotel, where they have just launched a new Sunday roast Carvery. The carvery starts off like a standard hotel buffet, with a good selection of salads, cold cuts, cheeses, and sashimi. After that, you can head over to the carvery counter, where a range of cuts of red meat, poultry, and even lobster and fish await, to be paired with tasty sauces and a range of veg. Homesick Brits will be thrilled to hear that Yorkshire puddings are also available. It's a pretty impressive selection, although we would have preferred if it had been cooked fresh.
More unmissable dining events and promotions this week:
French restaurants around Beijing will be serving special menus for one night only on Thursday March 19 as part of the Gout de France / Good France global culinary event. Check out our blog for more details on the restaurants taking part.
Chef Corrado Michelazzo is back at 10 Corso Como Beijing this Friday for one of his monthly pop up dinners, which this time will feature a carnivorous menu finished off with a special surprise dessert.
Dine in style at the funky W Hotel with their new weekend seafood buffet.
More stories by this author here.
Email: [email protected]
Instagram: @gongbaobeijing
Twitter: @gongbaobeijing
Weibo: @宫保北京
Photos: Laurent Hou

Visit the original source and full text: the Beijinger Blog