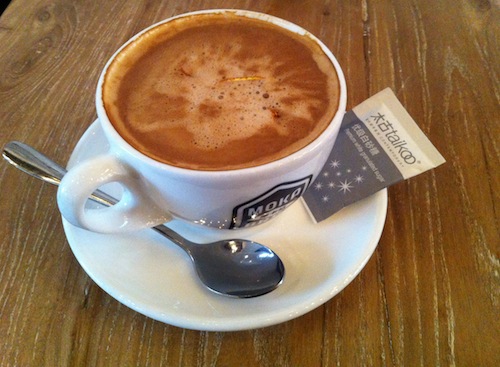 In their short life span of under a year, Moka Bros already seems to have achieved cafe dominance in Sanlitun as the "it spot." What better way to cement this than by expanding into largely uncharted territory? Early morning Western breakfast options are slim-pickings in the city, but Moka Bros is one of the first to be changing this with their expanded hours (daily from 8am), a new menu to match and RMB 15 coffee.
Located right around the corner, Tavalin Bagels launched its breakfast hours (from 8am) last year with a simple menu of bagel breakfast sandwiches and remains one the few options for an early morning bite in the neighborhood. Moka Bros is joining the ranks – albeit with a fuller, more varied menu.
Breakfast runs daily from 8-10.30am. The all-new morning menu offers a bit of something for everyone with ten options in total. Standards on the lunch and dinner menu are reinvented into their morning incarnations – an egg and ham crepe with Emmental cheese (RMB 32) and a breakfast wrap (RMB 35) with scrambled eggs, black beans, cheddar cheese, jalapenos, and salsa – and all of the usual suspects you would expect for breakfast are available: sunny side-up eggs on rye with ham and cheese (RMB 38), a ham and cheese omelet on a baguette (RMB 36), oatmeal with bananas, almonds and cinnamon (RMB 30), yogurt and granola (RMB 25), Chinese-style rice porridge (RMB 20), and a sweet-savory waffle (RMB 30).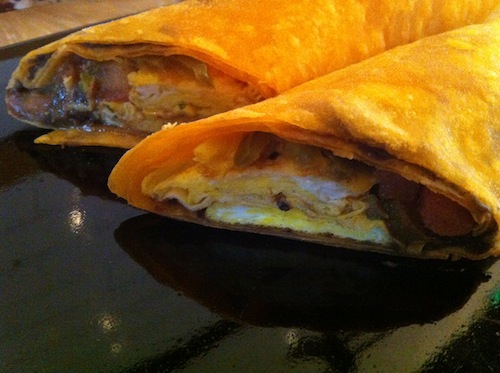 The wrap bears much resemblance to the American phenomenon of a breakfast burrito minus the meat and potatoes. The argument must be that, for the early hours, it's filling enough as is – others at the table agreed – but consider adding bacon (RMB 10) to round out the flavors with a touch more salt.
You can have a bit of brunch for breakfast with the "Sweet Start," a waffle accompanied by fresh seasonal fruit and drizzled with syrup. Order it topped with bacon or sans the cured pig – though the former option is highly recommended.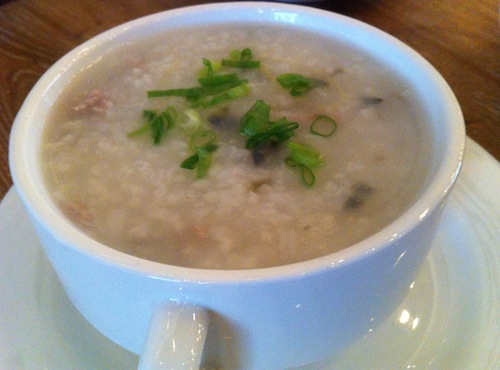 Though I grew up with the occasionally morning bowl of congee, the Hot Joe still struck me as an unlikely standout. Improbable or not, it's delicious and an excellent rendition (the sous chef's family recipe I was told) of the classic Guangdong rice porridge speckled with salty bits of preserved egg and pork.
The thing that I will return for most certainly is the "Bro'nola" – a healthy serving of yogurt, an ample sprinkling of berries, and outstanding house-baked granola. For the price of RMB 25, it's hard to find a more wholesome breakfast option in the area.
Finally, they've got the liquid life on lockdown with a full spread of coffees, smoothies and juices. Drinks make up the majority of the menu with regular coffees at a bargain RMB 15 (choose from a variety of milks including soy) and two of my favorite caffeinated cups in town – the espresso Romano (RMB 25) and the Moka coffee (RMB 38), both with double shots and a delightful kick of citrus (lemon and orange, respectively).
You will recognize a range of their smoothies (fruit- and vegetable-based) from the lunch and dinner menu, which is an excellent way to start a weekday or, for the eager, an early morning weekend. My tip? The Activate – avocado, spinach, apple and lemon juice – with an extra shot of ginger.
Photos: Cat Nelson
More stories by this author here.
Email: [email protected]
Twitter: @haimei_baole
Instagram: @haimei_baole
Weibo: @cat_nelson

Visit the original source and full text: the Beijinger Blog