Families relocating to Beijing need help to navigate the shops, banks, paying utilities, grocery stores, and much more; this is where ayis come in. In most countries, people use agencies to hire nannies and cleaners, which makes it easier to get a standardized rate and so forth. However, there isn't a industry standard for ayis here in China, so most families  just try to figure things out on the fly. We compiled the most topical issues such as pay and opinions from a recent ayi survey in our feature. Find out if you are paying too much or too little?
This month's beijingkids magazine also includes interviews with guest authors and illustrators taking part in The Bookworm Literary Festival. Also, we spotlight BCIS's Flux Film Festival is spotlighted as we look at how students are preparing for the big day(s).
In our health columns, Dr. Melissa Rodriguez and Dr. Dorothy Dexter touch on tips of managing the "Beijing Cough" and kids eating enough respectively. In our health article we look at how to cope with a special needs child.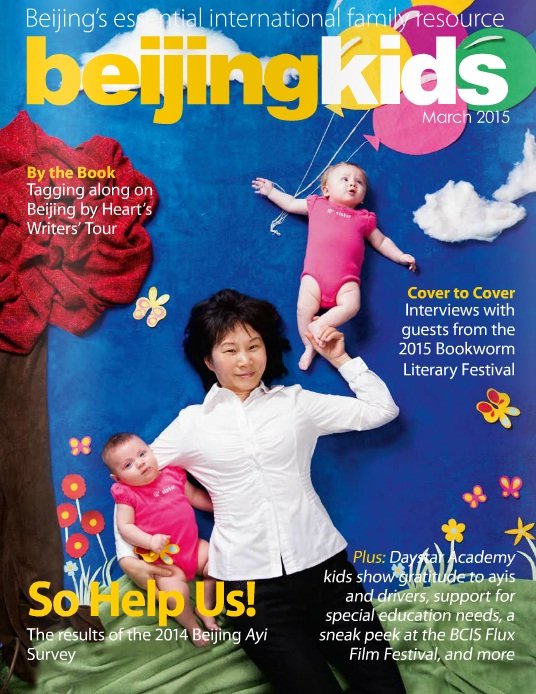 Get to most out of Sam's Club in our Talking Shop section and get felting for Birthdays as conducted by Moon Hare Workshop. Rebecca Archer gets a new look from Frank Provost. Brothers sample the kids menu at Tiago and learn how to teach your ayi to make Chicken Piccata in our dining section.
Read about the adventures the Nichols family had in a trip to Myanmar (Burma). Beijing by Heart take you through a literary excursion. Parents and regular columnists Christopher Lay and Jennifer Ambrose touch on the role of literature in their lives and kids lives.
Get to read what Daystar students have to say about their ayi both at home and in school as part of their gratitude project. ISB middle school students ask Penguin Random House's managing director questions about publishing. See the artwork by 3e International School students.
If you wish to send us news, submit your little bundle of joy to appear in the magazine's New Arrival section then send an email to [email protected].
Check out our digital version here, for those who wish to get a printed copy then send an email to [email protected].
This article first appeared on beijingkids.
Image: beijingkids

Visit the original source and full text: the Beijinger Blog