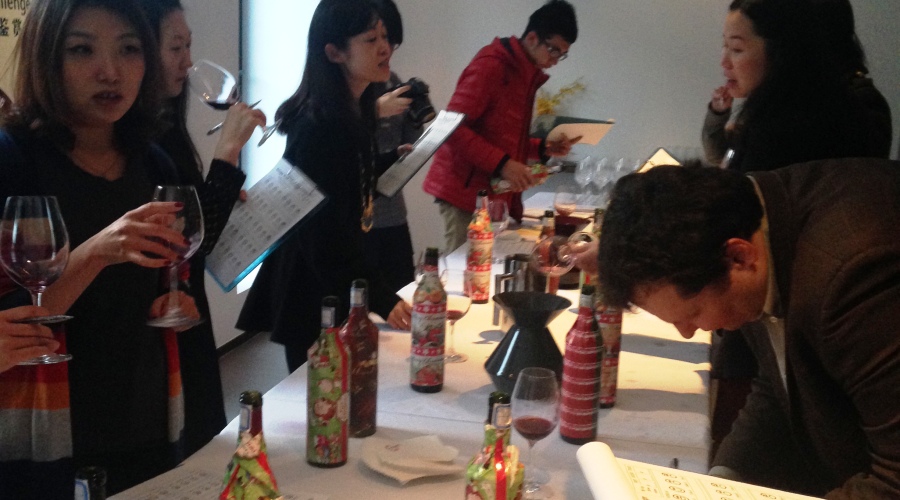 Back in December I helped judge the Sixth Annual Grape Wall Challenge, a event organized by Jim Boyce of the Grape Wall of China wine blog that asks Chinese consumers (and a few media judges) to rate a selection of wines that retail for under RMB 100. The event was held at TRB (previous years have been held at F by Tribute, Modo, Maison Boulud, and Maxim's of Paris), so you know there were delicious canapes to help the wine go down easier.
We blind tasted a selection of wines from some of Beijing's major wine distribution companies, covering a total of eight countries (Argentina, Australia, Chile, China, France, Portugal, Spain, South Africa). We were asked to rate each wine before there points were tallied and divided by the number of tasters.
Below are the top five wines based on the judges' and consumers' scores:
1. Trivento 'Tribu' Malbec 2013 from Argentina (RMB 95, Summergate)
2. Santa Alvara Carménère from Chile (RMB 81, French Wine Paradox)
3. Bocopa 'Alcanta' Merlot 2010 from Spain (RMB 65, French Wine Paradox)
4. KWV 'Classic' Pinotage 2012 from South Africa (RMB 87, China Wines & Spirits)
5. Nederburg 'Foundation' Shiraz-Pinotage 2013 from South Africa (RMB 89, ASC)
 
The wines are available for their respective producers and most should also be available from major retailers such as Jenny Lou and April Gourmet.
According to Boyce's blog on Grape Wall of China, the Grape Wall Challenge aims to better cover inexpensive wines that form the core of purchases in the Chinese market but are rarely written about, and at the same time boost consumer confidence in choosing and drinking these same wines. 
More stories by this author here.
Email: [email protected]
Instagram: @gongbaobeijing
Twitter: @gongbaobeijing
Weibo: @宫保北京
Photo: Robynne Tindall

Visit the original source and full text: the Beijinger Blog