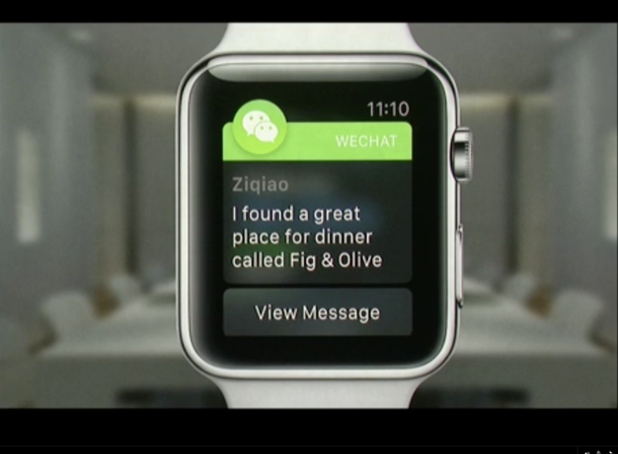 Apple had a guest from China on stage at Monday's "Spring Forward" event in San Francisco.
WeChat/Weixin, Shenzhen-based TenCent's popular messaging app, made a prominent appearance in the Apple Watch presentation by Kevin Lynch, vice president of technology at Apple, as he demonstrated the watch's features, which include messaging and the use of third-party apps. 
Apple Watch owners will be able to receive and send WeChat messages via their watches. China is seen as a key market for the new product. China is Apple's second most important market after the United States.
China is in the first wave of countries that will receive the Apple Watch for sale. Appointments to fit the watch will be available beginning April 10, with watches ready to buy on April 24.
China's presence was felt throughout the presentation. The keynote began with a montage shot at the opening of Apple's new concept store near Hangzhou's West Lake, which opened in February.
Photo: Apple/the Beijinger

Visit the original source and full text: the Beijinger Blog