Many foreigners may shudder at the thought of eating worms, but they aren't considered creepy or crawly in Yunnan. Beijing's Middle 8th makes the little critters delicious rather than simply a novelty.
Tasty worms, plus a menu chock full of other Yunnan classics, have helped the chain earn repeat tiles in the Best Yunnan category of the Beijinger's annual Reader Restaurant Awards. They're up for that accolade again this year, and you can vote for them (and your other favorite restaurants) until polling closes tonight (March 8) here.
From its origins in Sanlitun, Middle 8th has since expanded to five locations -- two in Sanlitun (in 3.3 and Tai Koo Li), one in Zhonnguancun, one in Indigo Mall, and another in Xizhimen.
Yunnan's has a rich culinary culture of dining on worms (read more here and here), and Middle 8th is a great place for a worm newbie to start. The Worm Eating Leaves (RMB 39), which features fried bamboo worms with pea sprouts, is essentially a salad, with the worms playing the part of croutons. They have a slightly brittle crunch plus a soft chewiness which complements crisp the pea shoot leaves well.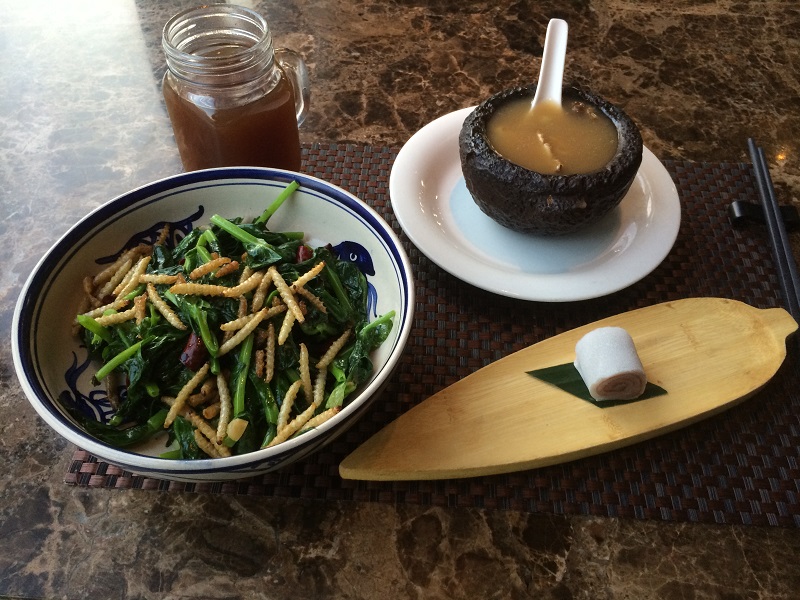 If you don't want worms, that's ok -- Middle 8th has one of Beijing's greatest arrays of Yunnan choices. Dozens of items are spread over a Bible-thick menu that is easy to peruse thanks to its fairly well-translated titles, vivid photos and neatly organized sections.
That spectrum of options includes Crispy Chilli Roasted Pork (RMB 39) and Yi Minority Torch Beef with Short Ribs (RMB 88), along with a Sautéed Tofu with Spicy Bean Sauce in a Stone Trough (RMB 38).
Prawns also feature heavily on the menu, and one dish to look out for is the Yi Minority Goat Cheese with Prawns (RMB 66 for 12) which gives diners a chance to sample one of Yunnan's culinary specialties: cheese. Milder than most of its western counterparts, Yunnan cheese is nevertheless a must-try on any visit.
But Middle 8th's true speciality lies is its mushrooms. Dishes feature familiar fungi such as portobellos and porcinis as well as less familiar varieties, such as the ones featured in the Yunnan Ham and Spicy Stir-Fried Russula Mushrooms (RMB 128). For a sampler, choose the wild mushroom version of Buddha Jumps Over the Wall soup. It features a variety of Yunnan mushrooms simmered to tenderness in a thick, smokey broth.
Fresh squeezed Guava Juice (RMB 25) and Homemade Yunnan Tamarind Juice (RMB 18) served in mason jars make for offbeat beverage selections to compliment your meal.
There are also several interesting desserts available, including Yunnan Macarons (with black sesame and almond filling), Mango Popsicles (RMB 22), and Red Bean Glutinous Rice Rolls (RMB 6 each), which come dusted in a hint of coconut.
Middle 8th also decks out their dining rooms with elements that lend an exotic air to the surroundings. The location I visited was decked out with rows of Yi minority copper teapots, shelves of baskets brimming with mushrooms, and ornately engrained traditional Chinese medicine cabinets.
Together, these aspects help explain the lasting appeal of Middle 8th.
Follow all of our 2015 Reader Restaurant Awards coverage here .... and don't forget to cast a ballot before voting closes tonight (March 8) at midnight here.
Images: Kyle Mullin

Visit the original source and full text: the Beijinger Blog