This year our 2015 Reader Restaurant Awards have four personality-based categories: Best Chef, Best Manager, Restaurant Personality of the Year, and Food Entrepreneur of the Year. During the voting period that runs through March 8, we're profiling a few of this year's nominees.
This time around we present Tim Hilbert, owner and manager at Tim's Texas Bar-B-Q, who has been nominated in the Best Manager category.
TBJ: Give us a little background about yourself.
I was born and grew up in Texas, graduating with an accounting degree. After that, I spent 10 years in the oil and gas business, and 16 years in the IT business, which led me from Texas to Australia to Singapore and finally China. Upon exiting the corporate world of IT, I opened up Tim's Texas Bar-B-Q on Guanghua Lu in Beijing, serving my first BBQ meal on Halloween, Oct 31, 2006. I am a pilot, love scuba diving, history, food, wine and people. I believe my attraction to China stems from its people, who love and enjoy their lives through simple pleasures like flying kites. or playing checkers. or ping pong in hutongs or public parks.
TBJ: What's your "secret sauce" that informs your management style?
My staff are my family. I treat them as such, trying to show them love and appreciation, and I also try to remember and celebrate their birthdays or buy them presents when I travel. I sometimes have to scold them like misbehaving kids, but I attempt to do so in a constructive and private manner. I verbally thank them for their hard work frequently.
TBJ: Tell us about a customer crisis and how you resolved it.
I think most of us (in the food and beverage industry) handle (such issues) similarly with apologies (and) attempts to replace or provide complimentary dishes.
One incident sticks in my mind. I had a table of four who had come in and ordered four meals and beers. On the second round of beers, one of the female customers began complaining that the beer was cold, (she was Chinese) before saying: "don't you know that Chinese drink warm beer?" I should note that my beers are displayed in iced vats, just inside the front door when you enter he store. My waitress quickly replaced the cold beers with room temperature beer, but the customer wouldn't let it go and continued to vocalize her displeasure loudly, thereby disrupting other diners. My floor manager then tried to resolve the issue, followed by my general manager. However, the customer continued with her high-volume complaints. Before I could react, my 58-year-old accountant, perhaps the kindest lady on the planet, approached the table, but she too was rebuffed. I then printed the bill for the whole table, showed it to the guests and tore it up before their eyes. I then bussed the table, removing all the plates, and asked the group to leave. As the group left, two of them apologized for the incident, and an eruption of applause from the remaining customers in the dining room ensued.  It left me with a feeling that, although it was a very negative incident—strikingly similar to the recent Nut Air Rage—I had probably done the right thing.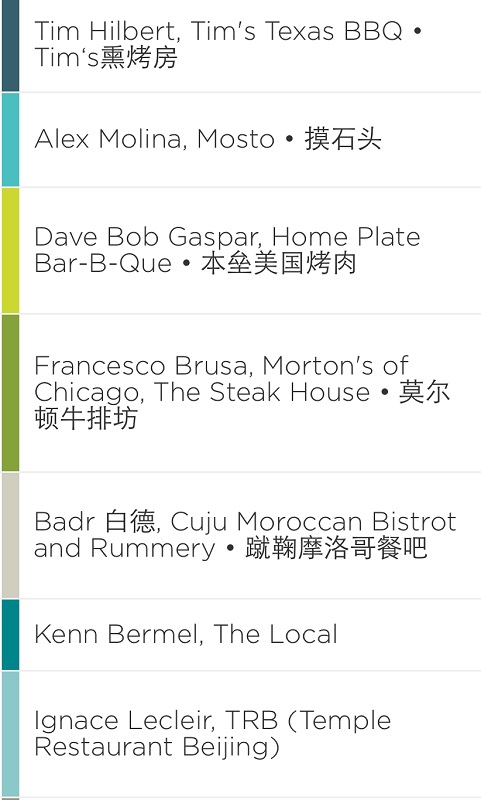 TBJ: How do you think Beijing restaurant patrons are different from diners in other cities?
After eight years, we still get many customers who act like they have not experienced American food and American-style dining, wherein a single menu item may have one or two meats plus up to three servings of vegetables all on one plate. We see a lot of 'over-ordering' of food and use lots of da bao take-away containers!
TBJ: Tell us about one of your favorite places to eat in Beijing, aside from your own.
I like spice and can never get enough xiangla jiding at Xiao Wang Fu. I love its large chunks of boneless chicken. I also enjoy the shui zhu yu at Tak Yong in the Kerry Center. It's boneless too!
Click here to read previous editions of A Few Words With wherein we profile some of the top players in Beijing's food scene during the voting period for the 2015 Reader Restaurant Awards, which runs through March 8.
Photo courtesy of Tim Hilbert

Visit the original source and full text: the Beijinger Blog