Chinese-style chuar (kebab) joints may very well be Beijing's official comfort food. These often humble eateries serving all manner of skewered food were once ubiquitous on Beijing's sidewalks, but as the city has modernized and cleaned itself up over the last decade, the streetside grill has all but disappeared or moved indoors.
Such is the origin of Spirited Away, an indoor chuar place with an artsy, clean design and a menu of roasted delectables that provides both standards and more adventurous fare, and in the process brings the streetside experience into the upscale era.
Opened last year, this roaster with a prime location near the south gate of Chaoyang Park has snagged a Best New Chinese Restaurant nomination in the 2015 Reader Restaurant Awards, which is open for voting through midnight tonight (March 8).
Those seeking a connection to the Studio Ghibli film of the same name will walk away disappointed; there appears to be no connection other than perhaps a tangential relationship between the odd ghosts that populate the film and the bizarre figures that adorn the restaurant's walls.
Spirited Away has a vast menu that's bound to provide something for every diner, with the possible exception of vegetarians, who will find precious little for themselves. But who are we fooling? Barbecue is the terrain of carnivores.
Standards include savory mutton skewers (RMB 3), beef tenderloin sticks (RMB 5), pork rib kebabs (RMB 6), and chicken wings (RMB 8) (which come in honey and spicy varieties). I tried a few of each, and was pleased to find that they were each barbecued with care: charred but not burned. Word of note: portions are small.
More adventurous diners can choose bovine bone marrow (RMB 4), pork intestine with garlic (RMB 5), chicken claws (RMB 4), grilled sheep testicles (RMB 18), or silk worms (RMB 6).
While I may be an adventurous foodie, I couldn't quite work up the nerve to try all of these, opting for only a chicken claw and a set of silkworms.
Foreigners may be surprised to learn that these critters have long been heralded as a nutritional supplement and as a "traditional treatment for diabetes" (according to Science Daily). But these potential health benefits aren't enough to salvage the yucky flavor of this quirky dish. Their outer shells are crunchy and tough, their insides squishy and bitter. In short, they taste even nastier than you'd expect.
The chicken claw was quite a bit better, offering up a few mouthfuls of chewy, salty meat.
Other conventionally Chinese chuar options like the chicken cartilage skewers (RMB 5) and the chicken gizzard sticks (RMB 5) may be a bit too tough and gristly for western patrons, but will leave lao Beijingren salivating.
I also enjoyed the green peppers stuffed with pork (RMB), and the steamed-then-barbecued dumplings (RMB 8), a kind of a baozi on a stick. A few seafood items such as grilled scallops (RMB 48) and hot and spicy crayfish (RMB 188) round out the menu.
Of course a trip to a Chinese barbecue joint wouldn't be complete without washing it down with beer, which makes a 1.8-liter torpedo-shaped canister of Yanjing (RMB 48) just the thing to order.
The decor is as offbeat as the menu choices. Strange cartoons line the walls, and a projector flashes Chinese music videos and weird tourism ads on the far wall. The spot is kept impeccably clean, setting it apart from some of the more dingy Chinese barbecue places out there.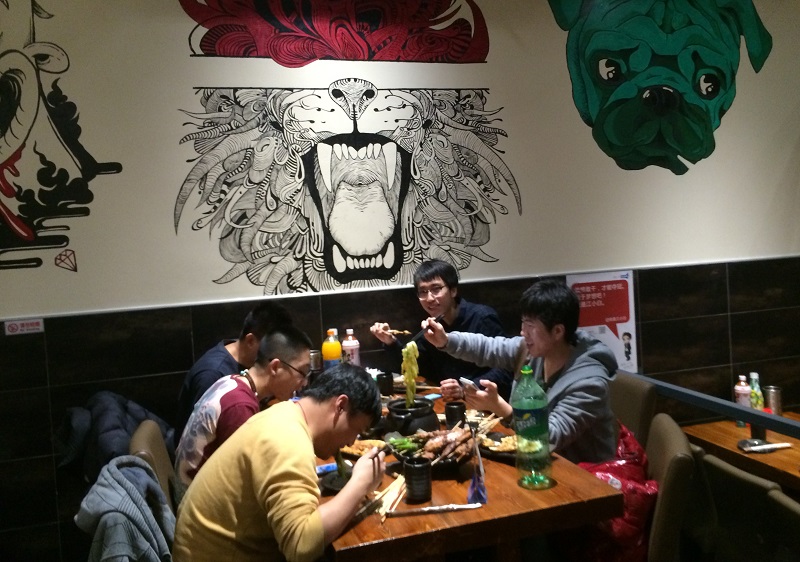 The place is an obvious hit with top ratings on Dianping.com, and the patrons young, hip and buzzing. Thankfully none were smoking, which I can't tell was a consequence of luck or policy, but it was a refreshing change from some of the more downmarket BBQ spots.
Together, all of these elements add up to a great choice for those wanting to expand their Chinese dining choices in Beijing.
Follow all of our 2015 Reader Restaurant Awards coverage here .... and don't forget to cast a ballot before voting closes tonight (March 8) at midnight here.
Images: Kyle Mullin

Visit the original source and full text: the Beijinger Blog