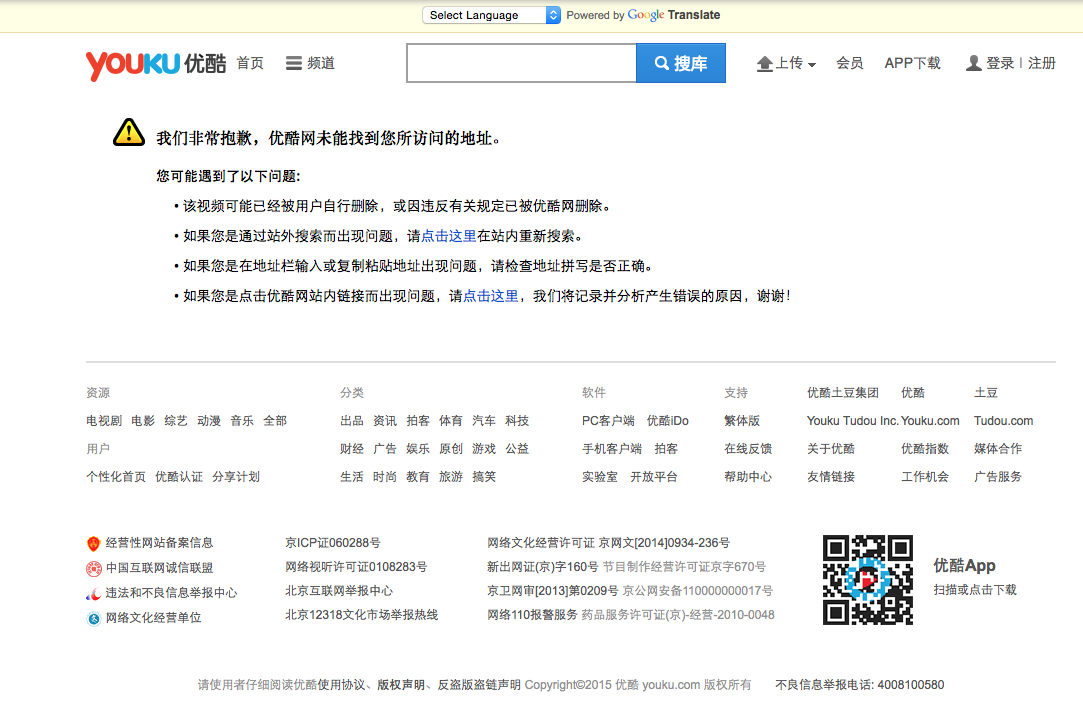 In less than a week, former China Central Television reporter Chai Jing's environmental documentary "Under the Dome" went from an online release to "hundreds of millions" of views, according to The New York Times, to oblivion.
As of Saturday morning Beijing time, the documentary, which had received over 150 million views by Thursday, could no longer be found on major China video sites. Versions on YouTube were still available, but had fewer than 1.5 million views combined, as that site remains unavailable in China.
"Under the Dome" has been called both China's "Silent Spring" and China's "An Inconvenient Truth."
Users visiting a former link to the film that has been called both China's "Silent Spring" and China's "An Inconvenient Truth," received the following message (Google Translated): "We are very sorry, Youku could not find the address you are visiting. You may be encountering the following issues:
• The video may have been deleted by the user themselves, or for violation of the relevant provisions have been deleted Youku.
• If you are outside the station while searching through a problem, please click here to re-search in the station.
• If you have a problem in the address bar, or copy and paste the address, please check the address is spelled correctly.
• If you're clicking links within the site Youku and problems, please click here, we will record and analyze the cause of the error, thank you!"
Chai took up the banner of environmental activism while still pregnant with her daughter in 2013. The child was diagnosed with a tumor before she was even born.
The documentary may be a victim of timing: with China's annual National People's Congress (NPC) beginning this week in Beijing, material of this kind isn't exactly welcome. Ironically, air quality in Beijing has been surprisingly poor for a national-level meeting of this kind: the AQI is 270 as of this writing, classified as "very unhealthy."
The video is still available with full English subtitles on YouTube.
Photo: Youku/the Beijinger

Visit the original source and full text: the Beijinger Blog