This year our 2015 Reader Restaurant Awards have four personality-based categories: Best Chef, Best Manager, Restaurant Personality of the Year, and Food Entrepreneur of the Year. During the voting period that runs through March 8, we're profiling a few of this year's crop of nominees.
This time around we present Erica Huang, owner of Farm to Neighbors, and a nominee in the Food Entrepreneur of the Year category.
TBJ: Give us a snapshot of what you do.
I run a farmer's market in my Gulou neighborhood. When I first organised it, I started by visiting farms near Beijing, in order to get to know them and their products. I try to source all the things you might need in your weekly grocery shopping – vegetables, cheese, eggs, sourdough bread, some yogurt, muesli, jams, meats, all kinds of stuff. What I'm really most proud of is the fresh vegetables and meats. Actually, I'm really proud of everything else too [laughs], because I personally select everything, and only include what I really like and what I want to share with other people.
I believe a farmer's market is not only a place to buy things, but also a place to build a community. And it's a place for people to learn about what they're eating, and build a connection to the source of their food. That's a big problem: most of us don't know what eating, especially in China. The word "organic" is almost meaningless at most businesses here, because of all the food safety issues. So it's important to educate people about what organic means, and how organic food is made in China.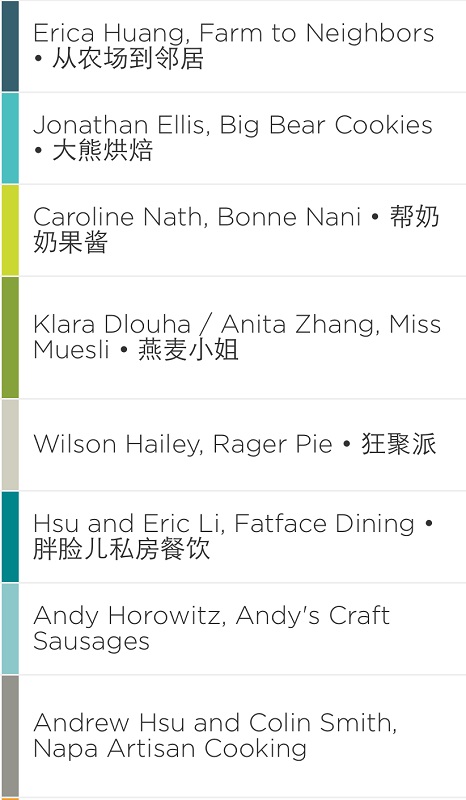 How big is your operation?
It's just myself running it, along with 15 to 20 vendors every Sunday, depending on the venue that we're using (call 136 9142 5744 for venue information).
What was the inspiration behind this idea?
I'm from Taiwan, and I've lived in New York and Seattle. In all of those places, my neighbors and I had a ritual of going to the farmer's market every weekend to get fresh produce from vendors we knew and trusted. I didn't get to do so much of that after coming to China. In fact my health got bad after living here for two years, because I was eating out at restaurants all the time, and not worrying about the quality of my food. Eventually I sought out healthy food, and found a lot of farms around Beijing. So I went to visit them and buy from them. I used to be a customer at the Beijing Farmer's Market (more info here, VPN required). But it was so far away from my hutong apartment. It was hard biking back with a bunch of groceries, so I decided to start my own market in the hutongs.
How is your business contributing to the food scene in Beijing?
It's bringing awareness to what Beijing has available, in terms of sustainable quality food that's safe. It's also allowing a lot of food makers to connect and exchange their resources. For instance, I've connected a jam lady with a lady that owns a strawberry farm, and I introduced a chef friend of mine to a farm that grows the vegetables he needs. I also put a home brewer in touch with someone that could source organic hops for him. I like connecting people in that way.
Tell us about one of your favorite places to eat in Beijing, aside from your own.
I actually don't eat out much now. I mostly cook at home, so that I know what ingredients I'm eating. It's hard for me to get used to restaurant food now. But one place that I do like to go to is 4corners, because their food is so fresh.
Click here to read previous editions of A Few Words With wherein we profile some of the top players in Beijing's food scene during the voting period for the 2015 Reader Restaurant Awards, which runs through March 8.
Photo (with her dad Tony) courtesy of Erica Huang

Visit the original source and full text: the Beijinger Blog