This year our 2015 Reader Restaurant Awards have four personality-based categories: Best Chef, Best Manager, Restaurant Personality of the Year, and Food Entrepreneur of the Year. During the voting period that runs through March 8, we're profiling a few of this year's nominees.
This time around we present Andrew S. Hsu (top left), co-owner and co-founder of Napa Artisan Cooking, who along with his partner and chef Colin Smith (top right), has been nominated for Food Entrepreneur of the Year.
TBJ: Give us a snapshot of what you do.
Napa serves California cuisine, which focuses on using organic, local, and seasonal ingredients to make farm-to-table food that is convenient and affordable. Our gourmet salads, soups, and warm foods are inspired by dishes from around the world, and were all created with take-away and delivery in mind.
We aim to open a take-away only store in Xingfuercun by March 20, one that carries our artisan prepared foods, as well as a curated selection of organic wines, housemade preserved goods, seasonal produce, and so on. We plan to open a full-service restaurant with a dine-in area and delivery options near Central Park residences by summer of this year.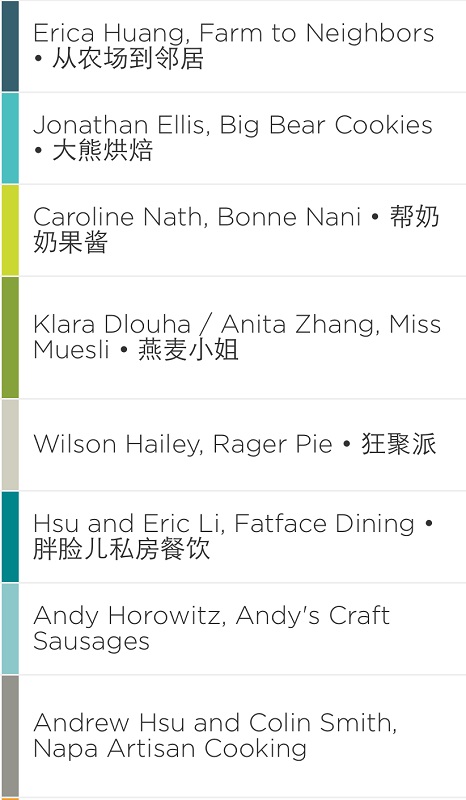 TBJ: How big is your operation?
Currently, it is just me and our chef, Colin Smith. For the last few months we've been hosting invite-only private kitchen tasting events, not only to let people in Beijing try our food, but as a way to really engage them and talk in depth about our sourcing and cooking philosophy.
TBJ: What was the inspiration behind this idea?
In many developed Western cities like San Francisco, New York, and London, eating food that is gourmet, safe, and sustainable is no longer a luxury. People there are more healthy and environmentally conscious, they demand to eat food that is cooked and sourced well on a daily basis, and therefore reasonably priced. We are inspired by many successful restaurants there that have figured out that people want to pay for good food and nothing more. They created self-serving restaurants in a casual setting, so while the food they cook is gourmet, you don't have to pay for service charges and decor in the same way you would have to for a fine dining restaurant.
TBJ: How is your business contributing to the food scene in Beijing?
We will contribute to Beijing's food scene by making farm-to-table food accessible in two ways. One, prices will be affordable. Two, our foods will be convenient in how they are ordered, bought, delivered, and even stored. Most of our warm items can be refrigerated or frozen, and reheated without affecting their quality. Our first retail store will also be kind of a curated market, a one-stop shop for a healthy lifestyle. And because we spend more than half of our time visiting the organic farms we work with, we want to make sure consumers benefit from that vetting process.
TBJ: Tell us about one of your favorite places to eat in Beijing, aside from your own.
Din Tai Fung. They are always consistent, not only in their food quality, but also in their service. Colin and I try to have one weekly "company" outing there.
Click here to read previous editions of A Few Words With wherein we profile some of the top players in Beijing's food scene during the voting period for the 2015 Reader Restaurant Awards, which runs through March 8.
Photo courtesy of Andrew S. Hsu

Visit the original source and full text: the Beijinger Blog