This year our 2015 Reader Restaurant Awards have four personality-based categories: Best Chef, Best Manager, Restaurant Personality of the Year, and Food Entrepreneur of the Year. During the voting period that runs through March 8, we're profiling a few of this year's crop of nominees.
This time around we present Alex Molina, general manager at Mosto Group, and a nominee in the Best Manager category.
TBJ: Give us a little background about yourself.
I was born in Colombia, and I came to China in 2006 after having passed through the hands of Miami, San Juan, and New York, and opened my first restaurant in 2008. Guest-relation, wine and music – that's my life!
TBJ: What's your "secret sauce" that informs your management style?
I truly believe in management by leading as an example. How can you expect your colleagues to work hard if you don't? I've been on my feet non-stop since 2000, and I don't plan to sit down any time soon.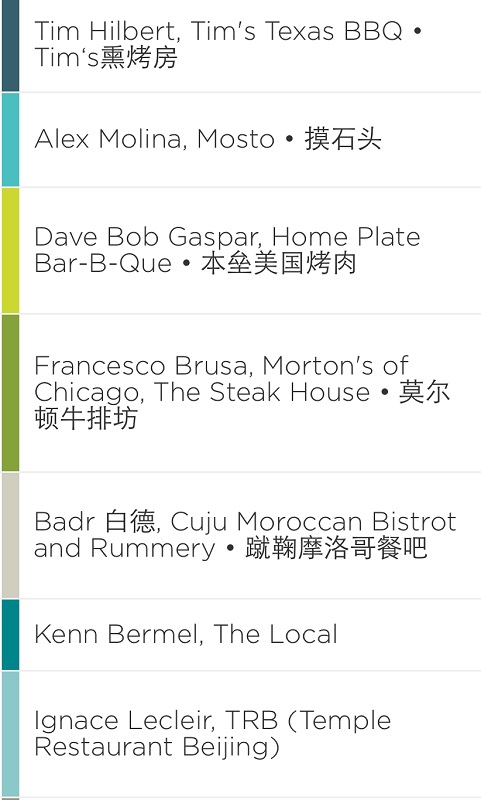 TBJ: Tell us about a customer crisis and how you resolved it.
It's all about turning a negative experience into a positive one. Customer crises are the salt of the earth in this business, that's how you learn. I take in all feedback as constructive criticism to constantly develop in my field.
TBJ: How are Beijing restaurant patrons different from diners in other cities?
The patrons in China are more diverse than what you'd you have in many other places in world. I thrive on the challenge of catering to our diverse guests.
TBJ: Tell us about one of your favorite places to eat in Beijing, aside from your own.
Temple Restaurant always delivers when you wanna impress. Also, I feel at home at Migas, Agua, Taco Bar, Feast, Hatsune, Okra, Great Leap, Transit … Ok, I'll stop now.
Click here to read previous editions of A Few Words With wherein we profile some of the top players in Beijing's food scene during the voting period for the 2015 Reader Restaurant Awards, which runs through March 8.
Photo courtesy of Alex Molina

Visit the original source and full text: the Beijinger Blog