This Sunday, Más brings you that classic pairing of Pink Floyd's Dark Side of the Moon and The Wizard of Oz, in all of it's legendary psychedelic glory. Prepare to tune in and drop out while experiencing the original mashup that sent thousands of teens to their VHS decks and turntables fumbling to press play in unison during the MGM lion's roar.
Dark Side of the Rainbow, though expressed by the band to be purely a coincidence, is a right of passage for many a rock music aficionado wanting to dive deeper into alchemical magic of Pink Floyd's early catalog.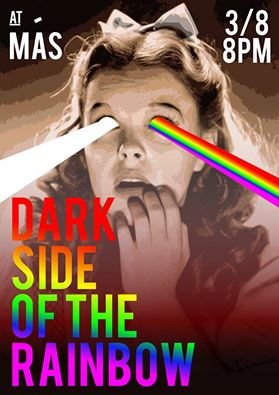 Regardless of the accidental synch and the correlating rainbow motifs, this will be screened in the homely atmosphere of Más, accompanied by all of their delicious cocktails and bar food. The screening will be free and begins at 8pm.
FYI, if you feel the desire to make this a double feature, also check out Zabriskie Point, a Michelangelo Antonioni joint which features a 10 minute slow motion explosion scored by the band that will blow you away.
Images: imgur.com, Más

Visit the original source and full text: the Beijinger Blog